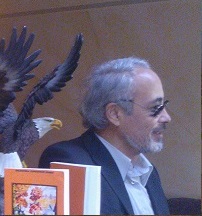 Holder Volcano

Member of the Uzbek Union of Writers

Chapter 12 of the short novel of Holder Volcano
Cranes


Khurshida felt ashamed in front of the tractor driver Sultan, because of yesterday's events, when in a drunken brawl her father nearly stabbed him with the broken bottle. Oh, how he scolded how insulted, to remember even ashamed - she thought, blushing and crying. I suppose, Sultan was offended by my father and us, therefore -continued to think Khurshida. -Of course, offended. He just came to help us, and my father... What happens now? Is Sultan going to stop talking with me and go somewhere else? How can I live? Oh, Lord, make it so he left. Let us reconcile and be together again! He gave me this happiness and do not take it from me! - she thought, briskly walking in the direction of the field mill.
Meanwhile, the autumn sun was shining, dispelling the morning mists. Sad deserted fields and in the distance there were black mulberry trees, poplars and willows. On the empty fields there were no people, not a tractor of the tractor driver Sultan, except a bulldozer "Altai" at field camp, out of which protruded their feet. Apparently, the driver of the bulldozer was fixing the motor. Khurshida wanted to go to the bulldozer and to ask Sultan about the tractor, but then changed her mind for fear of rumors. She stopped, having lost the last hope to meet here my beloved man. It seemed that the world was empty as the autumn field. Would be at least one stack of cotton on the field, one would hopes on the appearance of the tractor driver Sultan in these places. All - he will not come here. He left, annoyed with my father! Oh, what a misfortune, eh? What a misfortune! It's that damn vodka is to blame! - She began to cry quietly, wiping her tears with the edge of her handkerchief. Now it was useless to look for and wait for the tractor driver Sultan in these places.
With these thoughts Khurshida wanted to turn around and go back home. But then she heard the familiar voice of her lover guy and stood rooted to the spot. She turned around and saw the tractor driver Sultan, who cried out to her, waving his hand that held a wrench.
Lady Duchess Khurshidabanu Madame de La Marquise La tombala neige a pa seue pasuble manege! Well, where are you going, leaving me in the deserted autumn field like Leila, which left Majnun on the boundless deserts of separation in the epics of the great Uzbek poet Alisher Navoi?! - he shouted.
Hearing these words, Khurshida just roared with joy. She smiled through the tears quivering in her eyes like the morning dew. Thank God that he's not offended - she thought and ran towards the bulldozer "Altai", where stood her lover boy tractor driver Sultan. She stopped just a few steps from the tractor driver Sultan, and they shook hands, not daring to cuddle, although they really wanted to.
- I am sorry, Lady Duchess Khurshidabanu Madame de La Marquise La tombala neige a pa seue pasuble manege that didn't shake your aristocratic white handle, as my hands are stained with fuel oil. Well, how's it going, beautiful? Why are you crying?- said the tractor driver Sultan.
- I'm happy you are not offended by my father, who had upset You in a drunken brawl, Sultan- she said, with downcast eyes..
I don't know what you're talking about, Lady Duchess Khurshidabanu Madame de La Marquise La tombala neige a pa seue pasuble manege? What a riot, its a disappointment? Something I do not remember .First, I'm not mad. As for uncle Abduljabbar, I think he is a good man, and he was just joking. And I check, you know, with a sense of humor. So the question of any sorrow disappears - smiled the tractor driver Sultan.
Thank you, Sultan that you are not offended by my father and on us. You are truly a noble man. No, you are not a man but a heavenly angel without wings - said Khurshida.
-Well, this praise with a wide range in any gate not climbing. Even in the next life. You are exaggerating, Lady Duchess Khurshidabanu Madame de La Marquise La tombala neige a pa seue pasuble manege. Well, what with me angel, God, even a demon will not pull - shy, smiling, the tractor driver Sultan.
- Fool-said Khurshida with a guilty smile, looking at the tractor driver Sultan from the bottom up.
- Here is the word exactly suited to my face. Yes, I the fool and, you know, I'm proud of it, honestly - said Sultan, wiping cloth soiled hands.
Then he added:
- You better help me. I just do not have enough assistant volunteer. I'll climb under the bulldozer, but will you let me help, handing me wrenches that I call. And then for the arrival of the agronomist I have to do the norm. Tractor in Park, took my vehicle tractor and told me to work on this bulldozer. In short, I have to plow
- Good Sultan- agreed Khurshida. The tractor driver Sultan climbed under the tractor, and she began to help him, bottom for him wrenches. Lying under the bulldozer, the tractor driver Sultan huffed and puffed, twisting the nuts and without interrupting conversation with his girlfriend.Khurshida felt like the happiest person in the world. She wanted always to be together with the Sultan and to help him. To live and work together. Plow on a deserted fields, wrapped in a thick autumn fog, sitting next to him. To dine with him on a foggy field at a fire, illuminating their faces in a flame, like a red silk flag.
Here Khurshida thoughts broke the voice of the cranes that flew in the sky and she screamed?
The tractor driver Sultan looked up sharply and banged his head on the crankcase of the motor.
- Well, Mrs. Lady Duchess Khurshidabanu Madame de La Marquise La tombala neige a pa seue pasuble manege?! - he asked, coming out from under the bulldozer.
- Cranes!- cried Khurshida, enthusiastically looking at the sky, where the blade flew a huge flock of cranes, covering half the sky.
- Yes-aa-ah! - admiringly said the tractor driver Sultan, looking at the autumn sky, removing a moth eaten hat and leaning against the bulldozer of yellow color. Cranes fly high, filling the sky with their sad cries. The lovers stared at crane for a long time until they completely disappeared from sight, disappearing into the sky.
- Here, the cranes also flew to distant lands. If the whole neighborhood had become an orphan and the soul too - sighed Khurshida.
- Yes, it is a Pity that we are not born cranes. We would fly also to the South side by side, after them, like cranes freely shouting noisily, over the autumn fields, over the forests over blue bays and oceans. In the spring we would return to the Far East or here in Uzbekistan. They would live together happily, among tall grasses in the meadows performing the mating dance, flapping their huge wings and jumping on long legs and waking the silence on the deserted lawns of spring with shouts of joy. Seeing us from the Windows of their huts, lonely poets would write haiku, draining to the bottom of a sea shell with rice vodka sake and sadly munching on a snack coarse grinding.
- You look more like a poet than a tractor driver. I'm sure that if you wrote poetry, there would be no equal on the planet "Earth". Your poems translated to all languages of the world, and people would have bought your books like hotcakes. Moreover, you would have awarded the international Nobel Prize. And you would be living in peace, somewhere out there, in the Swiss Alps or in Paris or in Canada. The crowd of beautiful girls ran up to you crying and asking for your autograph. Many of them have you finished the suicide by throwing herself from the Eiffel tower in Paris -said Khurshida.
- Who am I, a poet? I'm more like a chimney sweep. And to write poetry does not have to be a poet. Conversely, do not have to write poetry to be or become a good poet, because life itself is highest poetry. To drive a tractor and work alone in the fields covered by fog is thin, my poetry, my music, my delicate Symphony! Why do I have Paris, why the Swiss Alps, when there are fields where carefree walks drunken Uzbek the wind? Why do I need a crowd of beautiful Paris girls when I have you? And the tart smell of field weeds, the fragrance of the blooming roses and olive trees of the ravines and the delicate scent of acacia, to me a thousand times nice than the smell of different perfumes and deodorants! Believe me, I seriously say - said Sultan.
- I believe You, Sultan with all my heart, and I am grateful to my fate, that I met someone like you. I wouldn't want to leave you even for a minute, but you know that I have a strict father. I thank you for what you are offended by my father and me and my mom. Okay, I went. And then my mother starts to worry about me. Because, when I came here didn't warn her about it. I'm sorry that I just have to go home and I do not have the opportunity to help you continue to be with you even apologized Khurshida.
-All right, Khurshida. Thank you for coming. I am also very worried about You. Thank God that You are alive and healthy. Give my greetings to aunt Raheela, I respect her very much. Not only is she a good woman and a great mother, because she gave birth to such a beautiful girl with a gentle soul like you - said Sultan.
They barely parted, and Khurshida went home. The evening autumn fog had thickened to such an extent that it was difficult to see anything two steps away.Khurshida lay in the dark, listening to the distant roar of a lone tractor. This is it, my lover guy Sultan works there one, leading his bulldozer through the fog, plugging deserted field. God help don't let him sleep alone and fatigue, he lost control in thick fog, fell into a deep ravine with his bulldozer "Altai" she whispered.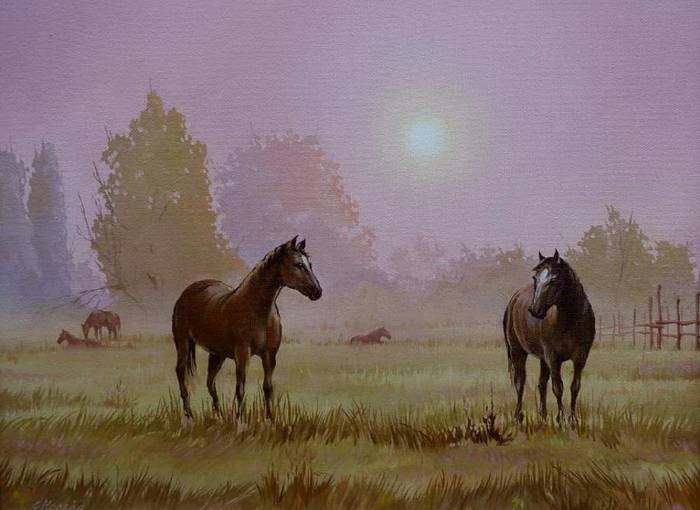 Обновлено (16.04.2018 15:49)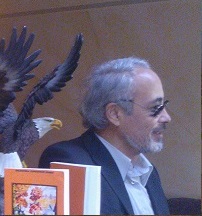 Holder Volcano

Member of the Uzbek Union of Writers

Chapter 11 of the short novel of Holder Volcano "Falling leaves"
(Translated by author)

Chapter 11
Tears of the nightingale




Autumn came. Of the poplars, maples and willows softly falling red crimson and yellow leaves. Sometimes the leaves whirled to the sad wind, like a Golden butterfly. No, it is rather a slow dance crimson yellow leaves, which are swept away frown the janitor in the wind On an autumn Tillacuduq fields farmers collected stems of cotton called "guzapaya", uprooting them using tractors, cultivators. From the collected stems of cotton they bind the sheaves and stack them in mop, which resemble thousands of tanks on the misty field of battle, especially when thick fog enveloped the field, moving silent dull silhouettes of working people in the fog, like the souls of the dead soldiers. Already the leaves fell from the acacia-tree, which grew near a field camp. Exposing a nest of magpies, like the old blackened woven from twig baskets in the middle of thorny black branches of an acacia tree.
Makeshift field Desk workers covered with fallen yellow leaves of acacia, poplars and willows. For the field mill to the field, Khurshida with her mother Raheela stems of cotton gather the stalks and tying them into hay bales, pitch slides, to make it easier to load them in a trailer vehicle of a tractor. They work in warm clothes as it is cold. The tractor driver Sultan in those days was working on a transport tractor-trailer, taking out bundles of cotton at home, at the client's request. He sat on the edge of the field and warmed himself at the fire, where the noise of burning firewood, lifting into the air and throwing orange smoke and red sparks, like stars. He warmed himself, thoughtfully pouring into a mug of hot tea from a thermos and sipped, waiting for customers will load stem stems of cotton on the trailer of his tractor. He was in cotton trousers and a sweatshirt. On his head was a lumberjack hat, and on his feet - tarpaulin boots.
His thoughts were interrupted by the man who came out of the fog with a pitchfork in his hands. After learning his name and thinking that this man is the father of Khurshida, the tractor driver Sultan got scared, thinking, surely he learned about my relationship with his daughter? Did she and her mom betray me and that angry man came to deal with me as man to man? But when the father of Khurshida Abduljabbar politely continued the conversation, he calmed down.
- Jian (my nephew). You will carry our guzapaya (cotton stems) or You don't have time for this? If not, tell me immediately and I'll go find another tractor driver said Abduljabbar.
- I have time. Just let me drop guzapaya (cotton stems) the client will be free - said Sultan.
- Thank you, my nephew that refused. Well, I'm off then. Our cotton stems over there for the field camp - said Abduljabbar.
- Well, uncle, as soon as I can, so just go to you -promised the tractor driver Sultan.
- Uh, thank you, my nephew! (God will give you the benefit of my cousin!) - Happy Abduljabbar and he walked away, disappearing into the fog. The tractor driver Sultan also enjoyed thinking about meeting once again with his beloved. He was ready not that there free to take their cotton stems home, but even did not hesitate to become a dog Khurshida, bound in heavy iron chain rattling and to protect their yard in the night, in the cold and barking would be steam coming from the mouth, lying in the doghouse when swirled snowflakes in blizzards thicker and thicker covering trees, roads and fields.
With such thoughts he went to the side of his tractor to fit it to other stacks to create a comfortable condition for loading. The tractor driver Sultan took the loaded cotton stalks of the client at the appointed place and released returned to the field, where he waited for the family of Khurshida. The lovers smiled at each other in secret from Abduljabbar.
- Thank you, nephew that came without having to wait long. Well, started then. You, daughter, take the fork and you will serve me heaps, but your mom will put them in the trailer so that the cargo did not fall on the road - said Abduljabbar, as if dispensing work.
- Well, father, Khurshida said, taking the fork.
Then Sultan stopped her.
- No, - he said - This job is not for girls, wet bundles of cotton so heavy that they can easily break the wooden handle of the pitchfork. Give me a pitchfork, I'll help.
- Thank you, nephew. It turns out you are a noble tractor driver. So help you God, because you decided to help us! - blessed Sultan Abduljabbar.
For such conversations, they started boarding. Sultan with power lifted heavy bundles of cotton and stretched up, and his father Khurshida stacked them neatly in the trailer. When they finished, everyone was sweating from the strain. By this time, the trailer was a large heap, over which stood the parents Khurshida as on the hill. When finished, the Sultan has stuck the pitchfork in a haystack, bundles of cotton, and said:
- Uncle, aunt, sit back and hold on! The road is not smooth! Go! Khurshida"s father before you sit down, shouted:
- And you, Khurshida, let's get in the cab and go! - he said.
- All right, dad! - said Khurshida and climbed into the cab of the tractor. The tractor driver Sultan started the motor and began to slowly and gently pick up speed. The parents of Khurshida went sitting on a huge stack of cotton, swaying, like an Arabian Bedouin on a camel high. The tractor driver Sultan drove slowly, like the tortoise that the goods have not fallen to the side. Moreover, the fog made it difficult to see the road and to navigate on the road. They drove for a long time. Finally, they arrived, and the parents carefully down with huge stacks down. Khurshida is also out of the cockpit. Lifting the hydraulics of a trailer, Sultan dumped the stacked sheaves have beside the gateway. The cargo fell with a crash to the ground, thus raising the front part of the tractor. When the discharge ended well, all breathed a sigh of relief.
- Thank You, nephew- said Abduljabbar, took out the money from his pocket of his pants, and handed them to the tractor driver Sultan.
- That's the money we agreed on. You can find - he said. In order not to arouse suspicion, the tractor driver Sultan took the money and began to count it.
- Now we have to drag into the yard all these sheaves and lay down in a haystack. And for tomorrow weather forecasters promise a rain with sleet - said Abduljabbar.
- Yes? What we stand then? Dragged! I have such a principle, once started someone long enough, I will go to the end! - said the tractor driver Sultan, taking the bundle and heading in the yard.
-No, no, you, nephew, we'll figure out something. Out in the field, you helped us enough. And then you get tired, fall asleep at the wheel, and in the mist will fall into a deep ravine with his tractor. Better you take a break - said Abduljabbar.
- No, uncle, what are you saying? I'm not at all tired. I myself am a rural guy, that is not the first time I get into such situations, "said Sultan, continuing to carry sheaves into the yard.
Well, as you know, in General, I warned you, nephew. And I have to say that I cannot pay you for your help, you want to have on.
- Yes, you do not worry about the additional charges, uncle Abduljabbar. I want to help for free. As they say, of the feelings of humanity - Explained Sultan.
-Well, then thank you again, for help free, dear nephew. The first time I see such a good tractor driver as you. Apparently, the world is not impoverished, good people - he thanked the tractor driver Sultan - said Abduljabbar and told his wife and daughters, to prepare dinner, and work themselves right.
Then Abduljabbar with the tractor driver Sultan worked in silence, dragging to the yard sheaves of cotton. Then they started to build a stack on a flat clay roof of the barn. By evening they had finished work and showered. The tractor driver Sultan was about to leave, but Abduljabbar stopped him.
- No, no, Mr. Tractor driver how is it you don't know, but we have since been made. Get together for dinner and then you can go on all four sides. Come, come inside, as they say Russian, you are welcome to our hut insisted Abduljabbar. The tractor driver Sultan was left with no option but to obey the hospitable customer. Before going in the house, he managed to secretly exchange a glance and a smile with his lover girl Khurshida. He kicked off his boots at the entrance. Removing and hanging on hangers for outer clothing and headdresses, he again washed his hands and sat down on the mattress, folding his legs like Buddha, in the area of the low table with short legs, which is called Khontakta. According to the custom of the Uzbeks, Abduljabbar read a short prayer and made amine, having hands to the face. The tractor driver Sultan also joined in. On the Khontakta was a glass bowl of salad for pilaf. Here Abduljabbar stood up and said in a low voice:
- I, by the way, there's strong Russian vodka in the fridge. Let's get sloshed on the best. And it is a sin not to drink for such a meeting with a great tractor driver and a good man like You, Sultanbai. Booze up softly to my wife not noticed. No, I'm not afraid of her. Only, you know, I can't stand the crying and the tears of women, and here such meeting. The more you tractor driver, I'm a mechanic and livestock farms, that is, it appears we are colleagues - blinked brightly Abduljabbar, and added:
- And you know how my father taught me in my youth? It is often said that son, eat shit, but immediately wipe your mouth with a lump that nobody noticed what shit you eat. My father was such a wise man, uuuuuuuu... - boasted he began to laugh in a fist, shaking his shoulders.
-Yes, no, uncle, I don't drink alcohol! I'm driving and my clients! said the tractor driver Sultan, sitting near at khontakta in a Buddha pose.
- Yes, I do. You are a guest here and do not have the right to vote. I'm the host. Well, at fifty... and I Drink that Nightingale a tear for the health of the Chairman of our kolkhoz, comrade Kokyutalov abu Salasarimsak ibn Guslvozhib Tezaktelybakezavuch- said Abduljabbar and left. After a few minutes he came back with vodka and ringing in Tashkent cups in his hands. He was so happy smiling from ear to ear, his smiling mouth was reminiscent of sliced watermelon. Squatting, Abduljabbar opened a bottle of Russian vodka, teeth like a dog gnawing a bone.
Then he poured the fiery moisture into bowls, with the words "forgive us Allah," and handed to Sultan a bowl.
- Well, Sultanbay, drink the tears of the Nightingale, which untie our tongues - he said. The tractor driver Sultan would never have picked up a Cup of vodka, but took a bowl, as I didn't want to hurt the father of his beloved girl.
- Let's drink first, as they say, for our meeting. But we'll see what to drink next stack. Cheers! Come on let's go! said Abduljabbar, like the great Russian cosmonaut Yuri Gagarin before flying into space. With these words he drained the bowl and started to eat, distorting accordion face and exhaling the air that fire will burn him inside. The tractor Sultan only took a sip of vodka and set the bowl on khontakta. He ate a salad, preprared a tomato, onion and hot pepper, while Khurshida was preparing to bring pilaf, vodka in the bottle over. But Abduljabbar was already tipsy.
- Come, take, eat pilaf, Sultanbai. Or you bring a spoon? I know, urban people are very cultural, and they eat risotto with a spoon. It is their right. But these foolish people do not know how many mouths have been using the spoon. To even think about it, is unpleasant. And the hand is their own, private, live spoonful, which was given to us none other than God Almighty! For this simple reason we are with you the second dish is always needs only hands. And liquid food we have to eat with the bread, dipping pieces in the broth. So the Great Ibn Sina, the one with Avicenna, who was born in the village of Afshana near Bukhara. Here, he said to eat food with your hands is helpful, as our fingertips are highly sensitive nerves, and they help the flow of bile acids in the stomach which ensures good digestion - he said, eat hand pilaf.
- Well, uh, when Avicenna said that, I too, perhaps, join - said the tractor driver Sultan, and he also began to eat plov with his hands. After some time, the father of Khurshida spoke again.
- You know a young colleague that I respect the Chairman of our kolkhoz, comrade Kokyutalov abu Salasarimsak ibn Guslvozhib Tezaktelybakezavuch? I respect him because thanks to him I became a mechanic of livestock farms. Our esteemed President was the first to notice my performance, and, of course, my God gifted talent. He, says he, you have Golden hands, and indeed it is. Every spring I go to the pasture and shear the sheep at such a pace that seeing as I do it, dumbfounded, even American cowboys from Texas! Yes, Yes! I for hour can shear a hundred sheep, not even tying their legs. Now keep the silly sheep with a huge Gissar sheep between his legs and "Vgik! Vgik!", ready! You wouldn't believe. One day we arrived in a barn an American journalist with a video camera. He even began to agitate me.
- He said to me, Mr. Abduljabbar, what are you doing in this place? You have a talent! You must live in America or in France!
- You miserable American, what have I lost there at all?!
- He says, as it is not lost, a farmer are you, a Communist?! Would you, says he, opened a Barber shop there in the crowded New York or in bustling Paris, near the Eiffel tower and sheared'd grit, day and night dogs of billionaires! I would live like human beings. Eating, grit, layered burgers, opening your mouth to overflowing, to bite off a slice of this exotic food. I said, no, miserable American, thank you very much, do not agitate me, still I will not go there, I said, can't leave his Homeland, his native village Tillakuduq and these mountain ranges, I "m sorry. He says, okay, a farmer Communist, ay, says he, of handstand you and he drove away on a motorcycle "Irbit" the biker with the wheel, raising a cloud of dust. Well, you think You like, check normal, how can I go overseas, when the Chairman of our kolkhoz Kokyutalov abu Salasarimsak ibn Guslvozhib Tezaktelybakezavuch, he trusted me with this responsible work, how to shear sheep. I'm the Chairman of our respect more than my father! His word is law to me! The Chairman of our collective farm Kokyutalov abu Salasarimsak ibn Guslvozhib Tezaktelybakezavuch, my idol, who gave me more than I asked for. And God?! I begged him to give me a son, and he gave one daughter. You know, I at night, not showing anyone the tears, silently crying, crying, from what, I have no son, the heir, of a man like you. My soul cried when you helped me, honestly. I aged twenty years, turned black from a grief! Many times I asked God about it, but He is still silent. If you do not believe, I can try to repeat this event now, in your presence - said Abduljabbar. And, looking at the ceiling, began to pray:
- Oh, my God, my God! Well, tell me, in the presence of the guest, the tractor operator Sultan that I have done you wrong, huh?! Has not diminished your wealth, if You gave me a son like this guy! This is because I do not read namaz, right?! Well, yeah, I drink. But what do I do if I am addicted to alcohol, tell yourself, God?! I'm used to it, and drink has become my habit, you know? That is, I can't exist in this world without vodka. In the morning I swear on everything Holy, promising his wife that he tied, to the cross in this set, and - for you, in the evening, without knowing it, come home already drunk, winding steps! As bewitched. It's all of that; I have no son, the heir. I'm not just for fun and of sorrow drink my God! Don't get me wrong, and in the Day of Judgment you tell your angels that they didn't leave me in the fire river, where bubbling lava! - He cried.
Seeing and hearing this, the tractor driver Sultan was confused and not knowing what to do, he began to calm Abduljabbar:
- Well, don't, stop it, uncle Abduljabbar, don't cry.
Abduljabbar stopped crying and looked up. Then, lazily licking his lips, reproachfully looked at the tractor driver Sultan.
And who are you to teach me, huh, punk! Tell me, who the hell are you?! What, strong? Cool huh?! Yes, I am now...this tool will rip your belly! - he said and suddenly grabbed an empty bottle, broke it in half, striking it on the edge of khontakta.
The tractor driver Sultan got scared and stood up.
-Yes, no, no, uncle Abduljabbar, I didn't want to teach you and... I just wanted... to... he said, cautiously looking down at the broken half of the bottle, which turned into a sharp and dangerous cutting tool.
- Come close to me, stinking tractor driver, if you are tired of living! Well, what are you waiting for, cool! Hit me! Strike! Well, good luck! Are you afraid? That is something! Now you'll never leave here alive! Pray lastly, dead!I'll wear your guts a turban on your head like a Grinch. - Threatened Abduljabbar, and, rushing to the tractor driver Sultan, he began waving a broken bottle left to right, but each time he missed. The tractor driver Sultan barely escaped the yard. Behind him ran out and Abduljabbar. The wife of Abduljabbar Raheela and her daughter were crying, shivering with fear.
-Wai, dead, help-those-Muslims! At least one of nibua-uude! Daughter, run to the neighbors, help us! I'll distract your father. - shouted Raheel.
- No, mother, to run together! I can't leave you! - cried Khurshida, running around in the yard.
Men fought to the death. Finally, the tractor driver Sultan using the method of aikido, he twisted Abduljabbar's hands and sat on it as the hunter-poacher over just to shoot wild boar.
- Bring the rope quickly! - he shouted
The mother of Khurshida brought the rope, and with her help, the tractor driver Sultan tied the hands and feet of Abduljabbar. He scolded the tractor driver Sultan was worth, threatening to kill him as soon as he had the opportunity.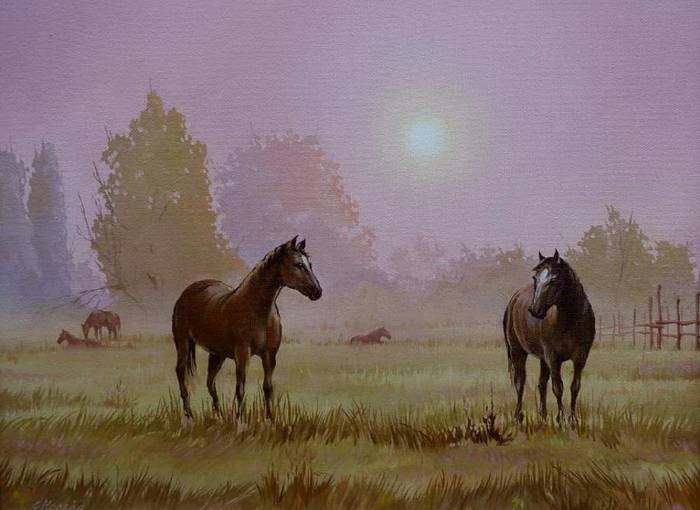 Обновлено (16.04.2018 15:50)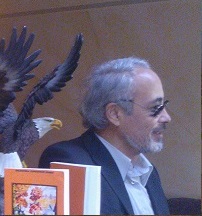 Holder Volcano

Member of the Uzbek Union of Writers

Chapter 10 of the short novel of Holder Volcano "Falling leaves"
(Translated by author)

Chapter 10
Letter from the afterlife




The tractor driver Sultan knew from Khurshida and reading the books that there is light at the feeling, as love, for which lovers are ready to sacrifice their lives if necessary. Looking once in the cinema the Indian film "Sangam", he silently cried, secretly wiping away tears in his holey handkerchief. But for his dog's life he never had to deal head-on with love. He only now began to feel the power of these mad ruthless feelings, which causes only suffering and constitute torture. The tractor driver Sultan lost peace, lost his head and sometimes felt like a soldier who received a concussion in the war, during the shelling and air strikes, where the howling shells. Waking up, he's usually quick to clean and on the go eating his Breakfast in a hurry in a cotton field, where Khurshida collects white gold, in a hurry to see his beloved girl as soon as possible. He can't exist without her. Here they are together again and they think that they are picking not cotton, but the white clouds in the sky.

- We collect white spring clouds in the autumn field! What a paradox! -exclaimed the tractor driver Sultan, placing the collected cotton apron Khurshida. She bent at the waist, with a slim waist, picking cotton and listening to the story of his beloved young man tractor driver Sultan.

Lady Duchess Khurshidabanu Madame de La Marquise La tombala neige a pa seue pasuble manege, you know what I dream? Don't know? Well, you better I'll tell You. I dream to study at Tashkent State University and be in the same group as you. Oh, I would have sat beside you and looked to You before the end of lectures and during the breaks too. Also I would gladly accompanied You to the hostel in the campus and would sit, waiting for you, not leaving even at night, looking at your bright window, the lights went out. I would sit until morning hoping to see at least a glimpse of your profile again at the window, and sigh, exhausted prisionais back to the tree not to fall.Would not go from there until your classmate pours cold water from a bucket on my head through the open window. I gladly accompanied you on the path of campus, when the alleys of the maples and poplars quietly falling yellow and red leaves covering the sidewalks deserted net. We'd be walking through the falling leaves, along the line where the twists and turns with difficulty turning trams ringing their bell. We could prepare the lessons together, sitting in your room, with lighted faces by the light of a table lamp. At some point you would point up at the night window of the room and said happily: "Oh, look, Sultan, the snow is falling!" And we, going to the window, silently staring together into night snowfall, through which barely could see the road covered with snow, the dim silhouettes of houses and red Windows, street lamps, where through snowflakes pouring tired light.

It would be nice, but my father never allowed me to study somewhere away from home, Khurshida said, smiling sadly and silently continuing to pick cotton.

- You better tell me about your past, about your happy youth. I find it very interesting - said Khurshida. The tractor sriver Sultan thought for a moment then began to speak:

- Oh, Madam Duchess Khurshidabanu Madame de La Marquise La tombala neige a pa seue pasuble manege, I experienced grief in his youth, like when I was 12 years old, my father died. He was a pilot and an aircraft crash, when pollinated cotton fields with poisonous pesticides. The plane is a crop duster, which was ruled by my father, hit the line of high voltage power lines and exploded in the eyes of the growers who hand-harvested cotton in the field. My father, of course, ejected at the moment, but unfortunately stuck the catapult.But he still managed to jump from the cockpit and fell in hirman. At that moment my mother was at home. Hearing the roar, we thought that somewhere again Holy war. I even wanted urgently to go to the recruiting office to join the brigade of volunteers and go to the front to become a hero, fighting with the enemy who treacherously and without warning invaded our sacred land. My mother and I went outside and thought that exploded shot down an enemy aircraft "Wolf pack". People are interested in, and the children shout, the people rejoice and rejoice. The crashed pilot was not a fascist, and my poor father, the pilot of a crop duster. So I have lost my only beloved father forever. But I have always believed in the supernatural life of man. I tried to deal with their own spiritualism and to establish a relationship with the dead, especially with his father, but to no avail. Once I had a chat with one hunchbacked and lame gravedigger about whether it is possible to correspond with the dead.

- And why not? Of course, you can. For this man to be the iron will, brave heart, desire and initiative, in the end. The rest is a trick - explained humpbacked and lame and also oblique gravedigger drunk, barely standing on his feet and leaning on a shovel that won't fall down drunk, you dig them a grave. He commanded that I installed over the grave of my father to the mailbox, put the letter in the cache and to wait patiently for a reply on that light. According to the gravedigger, this process requires certain rituals associated with time of day and the appropriate form of clothing. The adept who wrote a letter to the deceased need to be wearing striped pajamas with a torn sleeves, without buttons and go to the cemetery it should night, barefoot, without a hat, preferably a full moon. I fulfilled all the requirements of the gravedigger of the warlock, installing the mailbox on the grave of my father; put the first letter in a white envelope. It turns out that when a person has a strong desire to correspond with his dead father, the fear recedes. This I experienced when I installed mailbox on my father's grave during the full moon to perform a ritual of utmost interest. Then, one night I left the house in striped pajamas, of course, with the torn off sleeves, without buttons or shoes, without headgear. It was late autumn. On high-voltage wires hummed the cold autumn wind. I'm going, so towards the cemetery, the resting place of my father and feel the second letter I have written, which was lying in the pocket of my striped pants. In the sky stars glittered, and over the horizon slowly rising full moon, illuminating the cotton fields with mulberry trees, ghostly blackened away. I quickly walked ecutives in my striped pajamas, with detached sleeves without buttons, barefoot, shivering from the cold wind. In the distance on the field, rhythmically making noise, plowed alone bulldozer "Altai". Distant sounds of a motor in the blue darkness reminded me of spring frogs, which in the warm night chorus of croaking on the edge of rice fields. When I came to the cemetery, the moon was right above me, like a powerful spotlight. Look - over into the mailbox, which I installed on my father's grave, sits a large grey owl with round green eyes and hoots. "hoo-hoo!" I shouted and my voice echoed tombstones, made of pure marble and granite. The owl gently flew away, plaintive hooting and waving their mighty colorful wings. I opened the door of the mailbox and stunned with surprise, because the mailbox wasn't the letter that I wrote to my late father, gluing expensive brands on the white envelope, and another letter in a yellow envelope. I pulled this yellow envelope shaking from excitement. Look - on the envelope, the familiar handwriting and the words. "Address: White light. To: My son the tractor driver Sultan ibn Ultan in hand"

Reading the inscription, I was not myself, and I cried. All burst into tears..

- It's a miracle! Well, father! Decided to write me a response letter from the afterlife? Well, thank you, daddy... - I cried of boiling tears in the tails of his striped pajamas.

I opened the envelope and took the letter from him. The contents of the letter I know by heart, and it is still kept in my memory as top-secret archive materials of an Enigma.

Here are the contents of the letter:

"Heartfelt greetings from the world of the dead!

Hello, son Sultanbai!

Well, how are you? How is your mother? Fellow villagers relatives all alive and healthy? If you ask me, I feel very well. We , well, those neighbors are dead, sometimes at midnight we rise from the graves , sit actives in their shrouds, and when I tell you all about my ridiculous death, the company together laughing, snapping jaws. I know that in my life I loved the festival of fear. And here we have every day a holiday, and we, the dead, scare each other slowly, with difficulty, move the gravestones, then suddenly, ran from one stone tombs to another, when a shining full moon a silent flock of bats fly over a cemetery. What would you do son, if we have no case but to walk to play hide and seek, in early childhood. There are no health problems. We do not breathe, do not eat, do not go to the toilet, and do not shave. We don't need any clothes, except for the shroud. There is no need for medical drugs. Concepts such as house, car, luxury, business, money, banks, stock exchanges, that's all in the past for us. None of us was working. In our cemetery there is always peace.But, around unemployment. The most important thing is we're all equal. I have one friend who is in the white light, was the most influential rich man, and even ruled the country, took bribes in the large size, the oppressed people, engaged in money laundering, ferrying them to Western European banks through offshore zones, through the giant openings leaky laws of our country. And now he had nothing but his yellowed skeleton and holey rotten shroud. He previously lived with his family in luxurious bright castles in the Swiss Alps and now he's in the grave reigns dark, damp and cold. He has to be in company with disgusting worms, snakes, scorpions and nasty centipedes. Well, such a grave got to him.We're not much upset, that in our cold graves no electricity or gas. Why do the dead of electricity and gas? Son, if you don't chat away your nurse, I can open you a hidden secret. Son, you can congratulate me, because that is where I fell in love with a woman who was buried in a nearby tomb. A pretty young widow. She was even on top of yellowed skulls hanging a bunch of hair. Sometimes we sit long night on the mound of the graves, looking at the full moon and large stars on "the big dipper", sang a quiet song in unison. Solid romance! When my beloved, beauty begins to run, joyfully and loudly laughing with the moon I run after her, fearing to fall into the open the old the grave and not to step in the soft shroud of the deceased. Run once her laughing and again, her one arm fell off. And I, clumsy fool in a hurry stepped on the skeleton of her hand, like a bear crunch! And gentle bone loose of my hand sweetheart broke down. Oh, how she is, that is your poor stepmother, was crying after that... Barely calmed her... She was crying sitting on grave plate under the shining moon is not in pain no, we, thank God, do not feel pain. My beauty cried as the woman who fell from a cupboard her favorite porcelain vase and smashed it to smithereens. We called the surgeon of a trauma, which is buried too far from our graves. So he helped us. After examining the bone, it made the diagnosis "open fracture". Then he took a plate of inside-out old blackened coffin and put it in a cast broken skeleton of the brittle hands of my wife. Dead the surgeon said, well, they say, Madam, that didn't run off on your skull or jaw and stepped on them, this is not careful Mr. dead, that is your lover flatfooted with my bony feet. We're dead chorus laughed, snapping jaws. The surgeon was dead too. We thanked the surgeon for medical assistance, and went on down the trail overgrown with weeds, under the moon on the territory of our own independent cemetery. After two weeks, we got married and invited guests. The wedding came influential guests even from distant cemeteries of our independent country. Deceased presidents, Ministers, bankers, prosecutors, jailers, judges, retired generals, folk singers, policemen, pickpockets, writers, composers, priests, prostitutes scam, customs officials, artists, drivers, miners, farmers, carpenters, plumbers, hunters, shepherds, journalists, drug addicts, taxi drivers, thugs, welders, boxers, category, rope-walkers, shoemakers, combiners, moneylenders, pimps, and many others. Your stepmother was sitting in a brand new shrouds and a place of honor at the table, made of varnished planks of expensive coffins of the former officials. Guests congratulated us with the wedding and wished them success in the eternal life and gave us bouquets of carnations, tulips and roses with long stems that they were taken from gravestones. My beloved was delighted and thanked the guests, happily smelling of fresh roses. Then the guests shouted "Gorko!"(Spicy!) And our shadows that resembled x-ray, merged. Your stepmother long kisses under a bright shining full moon, sitting on a landscaped former tomb of a wealthy dead man, whose grave is covered with weeds and thorn tree. About the honeymoon, about intimacy and passionate about the knocking of bones I won't tell, because it would be not appropriate and not ethical on my part.

Here's a fun carefree life, son. Sincerely, your late father Ultenby".

- Well, how? -Asked the tractor driver Sultan, having finished his story of his late father and their happy afterlife with his stepmother.

- What a horrible but funny and sad story, my God! What a beautiful love and a free life! -Khurshida said smiling.

- Yes - said the tractor driver Sultan, continuing to pick cotton.


Обновлено (16.04.2018 15:49)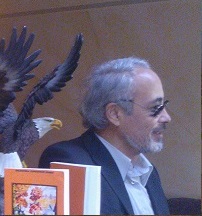 Holder Volcano

Member of the Uzbek Union of Writers

Chapter 8 of the short novel of Holder Volcano "Falling leaves"
(Translated by author)

Chapter 8

Moon over the cotton fields
For the tractor driver Sultan there is nothing more romantic than fall quiet hours of sunset, when the sun is setting over the cotton fields. He loved looking at a sad ball of fire the sun which is slowly sinking into the crimson cloud. Then it starts to get dark. Looking at this landscape, the tractor driver Sultan somehow wanted to cry with a swarm of mosquitoes who mourn forever gone forever day. Immersed and fields in the twilight, where workers still picking cotton, to complete the cotton harvest and to earn money for their daily bread. Most interesting is that cotton can assemble even in the dark, so as he white and it can be seen even in the dark. In the twilight fields Comptroller Abdelkasim shouts in the voice, something like:

- Hey bring the cotton! His voice is alarmed as the bird flies over fields in the evening silence. Sultan is a tractor driver with a trailer and carrying cotton on hirman, that is, to a point where the harvested cotton is sent to the dryer in the open air, under the sun. Stopping his tractor, he was with his beloved girlfriend Khurshida to carry harvested cotton to hirman. Together they folded the cotton into huge bales, barely tying the ends of the apron. When the tractor driver Sultan put the bale of cotton, Khurshida laughed.

- Why are You laughing, Madam Duchess Khurshidabanu Madame de La Marquise La tombala neige pace of sua e fusible manege? - asked the tractor driver Sultan.

Khurshida, barely suppressing his laughter, said:

- You are very similar to the white spider, which carries its larva she said, still laughing.

The tractor driver Sultan laughed too. Then they went to the side of the Maidan where the timekeeper in the light of a kerosene lamp, which lit up his face, weighed the bales of cotton. His assistant wrote down the digits in a worn notebook with a list of names of cotton growers. Khurshida and the tractor driver Sultan was in the queue at the last place. Weighing the cotton workers on the hanging weights attached to a self-made tripod, the timekeeper, shouting loudly for all to hear:

- Twenty-nine kilograms! Next!

With these words he removed the bale from the hook of the scales and throwing it to the side kick the knee. And there are two healthy guys missed a bale with two sides, and swinging at the expense of "one-two-three" and threw it into the tractor trailer. The trailer worked two porters who emptied apron, threw it down. Blank white aprons flying in the gloom in all directions shot as swans and as the night parachutes paratroopers. Sultan with Khurshida sat on the edge of Maidan, bales, stuffed with cotton, as other workers who were standing around, slapping hands, killing and driving away mosquitoes bloodsuckers. Meanwhile, the sky lit up a distant star and the horizon beyond the fields slowly began to raise, the moon softly lighting hirman.

- What a beauty! - Admiringly said Khurshida.

- Wow!What a beautiful moon! How brightly the stars twinkle! - confirmed her words to Sultan.

- You see, over the slope shines the big dipper! - Continued to admire Khurshida- one, two, three, four... seven bright stars! They are similar to bucket! An amazing sight, isn't it, and the moon? It is round-round, as if drawn by a compass, like a bowl of Chinese porcelain! -Khurshida said, waving away the pesky hungry mosquitoes.

- And the crickets? How loud and in unison they sing! Night rings from their streets! Or is it grasshoppers sing? Honestly, I don't know much about insects. But I love their monotone chorus, and you? - asked the tractor driver Sultan.

And who doesn't like singing crickets?! This is divine music cleanses the soul by the light of the moon, said Khurshida.

Yes. I had one friend poacher said the tractor driver Sultan. He engaged in fishing crickets, put them in matchboxes and sold in the city fishermen, who used crickets as bait, fishing, stringing them on hooks of their fishing lines. Many citizens bought crickets that my friend the poacher and let them free in their apartments, where the crickets sang enthusiastically in the silence of the night, as on the lawn when the moon peeks out the window. And I think the citizens were happy, lying in their bedroom and could not sleep until I stop cricket. Romance!

So talking, they approached the scales on a tripod, made from willow sticks where the timekeeper was weighed last bales of cotton. At this time, almost all the workers went home. It was only the timekeeper and his assistants there.

- Oh, Sultan, all gone. How will I now go home in the dark alone? - fearfully said Khurshida.

- Don't you worry Your Majesty Madam Duchess Khurshidabanu Madame de La Marquise La tombala neige a pa seue pasuble manege. I'll take you home to this fabulous carriage with the iron horse. Just today I go to the cotton dryer place, through Your Street. What do You fear, when You humble mechanic athlete, who have long studied such martial arts as Jiu-jitsu, street fight, kung fu, Taekwondo, Muaythai, Aikido, and so on - began to calm his beloved tractor driver Sultan.

- A joke is a joke, but I in any case will not sit beside you in the cab of your tractor. Just go in the trailer warned Khurshida.

- Good - agreed the tractor driver Sultan.

Before leaving, Khurshida climbed into the trailer and lay down on comfortable cotton. She lay like an angel who is resting on white clouds. The tractor driver Sultan wanted to have the tractor engine, but the motor for some reason would not start. Heard only the sound of the starter - chgi-gigi - gigi -gigi! Chgi -gigi -gigi -gigi!

- Come on, Satan! - Sultan got angry and slapped his hand on the steering wheel. Khurshida was still drowning in cotton, as in a white cloud, and looked at the shining moon and bright stars.

- Well, what have you, Sultan?! Won't start or what?! - asked the timekeeper who just were leaving.

Lifting up the lantern, he lit the cabin.

- Yes, with the carb, something happened. Or the plugs are wet. You need to check nervously said Sultan, and added:

- You are the timekeeper, leave me a kerosene lamp. I'll leave it in the field camp. And then, as luck would have it, I don't have even a flashlight - said Sultan.

- Okay - agreed to the timekeeper and leaving the lamp to the Sultan, went with his assistant home.

The tractor driver Sultan jumped out of the cab and turned to Khurshida:

- Excuse me, Madam Duchess Khurshidabanu Madame de La Marquise La tombala neige a pa seue pasuble manege! I never thought that fabulous coach breaks down! Go down, need your help! Hold this magical lamp of Aladdin, and I'm in its light I'll try to fix the motor! he said.

Oh my God, what is it, huh?! My mother must have given birth to another Khurshida worrying for me. Now I'm done. Dad's going to kill me! Well, what a fool I am, eh? Why could I not go home? -Khurshida said, getting off the trailer.

Frustrated, she went to the tractor driver Sultan; he took the kerosene lamp and began to cover the open hood of tractor, illuminating his face a red light.

- Don't you worry, Khurshidabanu, everything will be fine ' said the tractor driver Sultan, digging in the motor.

This time around the burning of the kerosene lamp started flying little bugs. In the lamplight their transparent wings were glowing orange-yellow, then fiery red. To Khurshida they seemed fiery. Moths hovered around the light. After a while Khurshida began to swell hands. But the tractor driver Sultan was still fiddling with the engine.

- Well, how long there'll still be digging?! And my hands are swollen! -Khurshida complained.

- Now, Madam Duchess Khurshidabanu Madame de La Marquise La tombala neige a pa seue pasuble manege, be patient and don't drop the lantern, you hear?- said the tractor driver Sultan.

- Well - said Khurshida complained, holding the lamp in the other hand. Finally, the tractor driver Sultan fixed the motor and raised his head, wiping cloth stained dirty hands.

- Well, that's all he said, smiling and jumping down. And you were very impatient majesty, Mrs. Madam Duchess Khurshidabanu Madame de La Marquise La tombala neige a pa seue pasuble manege.

Closing the hood, he climbed into the cab, and Khurshida climbed into the trailer. Convinced that Khurshida in the trailer, the tractor driver Sultan started the engine, and the tractor smoothly went to the side of the field mill. On reaching the field camp, the tractor driver Sultan stopped the tractor and got out of the cab, carefully holding a kerosene lamp, which shone like a large precious diamond. As he promised, put the lamp on a makeshift field in the table under the acacia and wanted to repay it, when his knees buckled.

- Wow!- he groaned, leaning on the table, and sat down exhausted. Seeing this, Khurshida scared.

- Oh, what's wrong with You, Sultan! You get sick or hurt? I now! - she shouted and quickly got off of the trailer. Then he ran to rescue his beloved.

- What happened, Sultan?! Are you sick?! Do not scare me, please. Or You are joking again? - she asked, approaching the tractor driver Sultan.

- Nothing, don't worry, it'll pass. Head something spun by me, ' said the tractor driver Sultan, trying to calm the frightened girl.

Khurshida sat down next to the tractor driver Sultan and inadvertently palms of the hands touched his forehead the tractor driver Sultan to know if he had temperature. The tractor driver Sultan thought that his forehead touched the hand, Khurshida, and heavenly angel.

- Excuse me, Khurshida for what You because I was late home. Here comes a little to himself, and we'll go. I will come to your home and explain everything to your parents. I think they will understand us correctly. If anything, I'm even prepared to die defending You and Your mother from Your father!.. Oh, something I want to lie down... Can I go lie down a bit?

- Yes, of course. You, it, Sultan, don't worry about me; I'll explain everything to my parents. They believe me. Let me help you. You lie so... I mean put your head on my lap and don't be shy - said Khurshida.

Thanks, Khurshida- thanked the tractor driver Sultan adhered on the bed and put my head on my knees Khurshida.

- Do you think the temperature... God, I don't even know how to help you. Unfortunately, there is no nearby phone so I could call an Ambulance - crying Khurshida. She sat up, fending off mosquitoes with a scarf from the tractor driver Sultan, and its dense and gentle curly hair shone over the face of the Sultan as black silk half-mast the flag of love, with her eyes rolling tears.

'Don't cry, Khurshida. Even when I'm gone, don't cry. Because I'm not worthy of your diamond tears. You're not meant to grief and tears, and to smiles and happiness. Come on, smile. Oh, how I love your smile! It's like the sun illuminates my life and my inner world, my soul with joy begins to sing like a lark over the morning field said the tractor driver Sultan.

- You know, Sultan -Khurshida smiled through her tears.

- How you are beautiful, Khurshida! You have a lovely smile! That smile will heal even the most hopeless incurable disease! Here you smile, and I begin to feel healing. Yes, I feel better already, believe me, Khurshida. This is a new method of treatment in the medical world and its called smilingtherapy! Help me please; I want to raise -said Sultan.

- Yes?! Well, thank God, thank God! - Glad Khurshida, helping her beloved boyfriend up.

The tractor driver Sultan sat down. Khurshida involuntarily hugged the tractor driver Sultan and laid her head against his shoulder. On a makeshift field Desk all burned kerosene lamp, gazing at its red light face couple. Around the glow of the lantern happily flew a small light-brown beetle. Over the fields the moon is shining bright and dreamy stars glittered.
Chapter 9
Lumberjack





The tractor driver Sultan was driving his tractor on a country road, thinking about the beauty Khurshida, forgetting everything else except the steering wheel and the road.
- What a beautiful girl! What color was her hair, what hair, Oh, my God! They look like curly algae in the clear water on the ocean, on some Pacific Atoll, and the figure of her? Eyes, lips, smooth chin, Swan-like neck and white soft hands! If Khurshida will participate in the international beauty contest, I'm sure on one hundred percent that she would take the first place, and possess the title of "the most beautiful girl on the planet." I wonder if Khurshida has a boyfriend. I wonder why I did not immediately ask her. Oh, i wish this tractor go faster. Why is time as slow as a tortoise in the Galapagos Islands? On other days, the sun quickly rises over the fields and wakes skylarks, who selflessly poured a trill on an empty stomach, and there look - it's already heading into the sunset, where the plaintive buzzing mosquitoes. Oh, it's beauty slowly and silently rises like the moon softly lighting the deserted fields of my soul, reducing me crazy! As now I can work and live without her? And how loudly she laughs!
With such thoughts the tractor driver Sultan arrived at the field where the cotton harvesters in the morning started picking cotton. He stopped his tractor in a convenient place at lunchtime cotton growers bring to the weigh harvested cotton in huge bales. Sitting in the cockpit, he found the sight Khurshida, jumped from the cab and approached her. They said Hello.
- Well, mister slacker Monsieur Sultan de La Crua je'mapple a la maison general, la tge bien, merci beaucoup moi!, help me gather the cotton? Here, take my extra apron and put it on - she grinned Khurshida.
- And, of course, will help, madam Duchess Khurshidabanu Madame de La Marquise La tombala neige a pace sua e fusible manege - said the tractor driver Sultan, wearing the apron, so from the front it formed a pouch like a kangaroo.
- Well, how similar do I look like a kangaroo? -asked the tractor driver Sultan bouncing.
- The kangaroo arms are very short and You have long arms -said Khurshida fun and laughing loudly.
- Yes? You think? However, Madam Duchess Khurshidabanu Madame de La Marquise La tombala neige a pa seue pasuble manege, you can climb up to my bumper and I'll ride across the savannah cotton fields, doing a two-meter jumping - said the tractor driver Sultan.
Khurshida again burst into laughter. So conversing, the lovers began to pick cotton.
Sultan, who were you before, before you got here? - asked Khurshida.
-Oh, it's a long story - started to remember about his past Sultan, not looking up from his work and continued. -I used to work in Charvak mountain nature reserve as a Ranger. I lived in a cottage on a high cliff, at an altitude of 1000 meter above sea level. In cloudy weather my hut disappeared among the clouds. Sooner from lack of oxygen I was opposes ears, and my nose was bleeding. Then gradually I got used to it. Under a high cliff, where I led a solitary life, furiously seething Mountain River, and its waves roar assailed on granite rocks, honing and polishing them to a Shine mirrors. The water in the river was so cold that my teeth instantly froze even in summer. Entering the water was more dangerous not so much because of the transience and deep-water nature of the river, but because of its icy water that freezes the feet, body and even the human brain. The amazing thing to me was that in a river with too cold water, fish lived. One evening, opening the window of my hut, I lowered a rope with a bucket into a deep well and got the water out of the river. Then I raised the bucket. Look in the bucket floats a small carp, slapping the tail on water, which splashed, glittering in the light of the shining moon! Well, wonders! - I think. For a person like me who lives in the desolate mountains, it was amazing. And on a nearby cliff lived an eagle. They were flying high, spreading its mighty wings and soared in the sky forming a large circle.
-Chyaaaaaaake!- the eagles shouted they have, proudly flying over a century of mining the rocks above the forests above the rushing river. Although they by nature were birds of prey, but they lived in their nest in peace and friendship, treated each other with understanding and respect. The eagles fed their Chicks fresh meat, when people in our country ate only bread and tea, sometimes eating the grass as vegetarians. I was jealous of eagles and white and from the heart, because they lived freely, not like other eagles that live in cells.
One day I came home from work and look in my cabin all upside down, as they say, upside down. The cause of the mess I immediately recognized. It turns out that my hut got protein. I barely drove it, hitting with a slotted spoon in the bowl and shouting. In clear weather, looking out the window of the hut you can enjoy the summer scenery. I was fascinated by the snow coated Mountain peaks, green pine forests with its original untouched form. The funny thing was that when I looked down, it seemed to me that rock where is my hut, floating in the air constantly, like a ship at sea. My head was spinning at the sight of this spectacle. In bad weather I was forced to stay at home, tightly closed doors and Windows, as the cabin could invade the clouds. In the cloudless night sit at the window and watching the moon in the vast sky teeming with a myriad of stars shimmering over the forest. Sometimes in the blue dusk I fell asleep at the window leaning on the sill. Sometimes the noise starts pouring tropical rain, and the grey wall of rain fade area. Rolling thunder, stunning the neighborhood. And after the rain it was easy to breath, filling your lungs with fresh and healthy air. After the rain, the world seems rejuvenated. In such moments, you more want to live on this beautiful planet. You see, on the leaves of grass and on the wet branches of bushes slowly crawling snails, lazily stretching out their delicate little horns on the ends of which located their tiny eyes. I love snails. They move slowly, sticking his neck out of the fragile shell. Deep in the mountains where I lived and worked as a Ranger, especially on the lawns, a lot of snails - I finished the story of the tractor driver Sultan.
-What wonderful dreams and what you have a past lyric, Sultan! - Admiringly said Khurshida.
Yeah, I can't complain. Now let me ask you one delicate question, Duchess Khurshidabanu Madame de La Marquise La tombala neige a pa seue pasuble manege - said the tractor driver Sultan, without waiting for a reply, continued:
- Of course, I am sorry for what you are asking sometimes silly questions, like an inexperienced investigator in an investigative isolator. It's the fact that I love you, and without you I can't live not only in this world, but even in Heaven. Well, judge for yourself if I miss you after a few minutes after we parted, how can I live without you in heaven where people live forever? I love you so much that when I see You, I freeze for a moment like a wall, like the person in the picture. Answer me honestly and straight-You have a boyfriend or not? Soothe the soul of the poor mechanic, who adores you. Did you find it difficult to say two little words, Yes or no?
After hearing the tractor driver Sultan, Khurshida again blushed. She tried not to look into the eyes of the tractor driver Sultan, who waited for an answer from her on his hard inquisitive question. Finally, Khurshida said:
- You know, you are asking me very tough questions. Well, the tractor driver Sultan, if you insist, then I will have to still answer this question. Just promise me that You won't be offended -Khurshida said, his eyes downcast.
- I promise. The word of man - said the tractor driver Sultan, prepared to listen.
I don't know how to tell you...Well, if briefly, then... yeah, I mean... I have a boyfriend - admitted Khurshida. From these words the tractor driver Sultan shuddered, turned pale face from feelings of jealousy and powerlessness.
Yes? - He said with difficulty, as he had a dry throat. Although the tractor driver Sultan was quite strong and a strong guy, but there he sat from impotence on a large bale of cotton.
- Yes - said Khurshida.
- Who is he? - asked the tractor driver Sultan.
I'm afraid to say. He's so handsome, strong, clever,Khurshida started to list the positive side of her lover guy.
- Well, You cut me without a knife. Well... well, okay. So there is still having a boyfriend. Well, it's a pity that so happened. Okay by then, I'll leave so as not to disturb you. Au-revoir, Mrs Duchess Khurshidabanu Madame de La Marquise La tombala neige a pa seue pasuble manege, Au-revoir- said the tractor driver Sultan, rising, going out. But then it kept - Khurshida said.
- It's you! That is, I have no boyfriend, except for You, Sultan! -Khurshida said smiling and blushing.
-Yes?! -asked the tractor driver Sultan.
- Yes - quietly, almost in a whisper - said Khurshida.
The tractor driver Sultan full of joy he wanted to shout at the whole field that he's the luckiest man in the world, but Khurshida shut his mouth with the palm of his gentle hands. The tractor driver Sultan hugged his beloved girl tightly and kissed her on the lips, eyes, neck...
- Hurray! - he said, looking into the beautiful eyes. And she smiled through her tears.
Обновлено (26.11.2018 13:35)