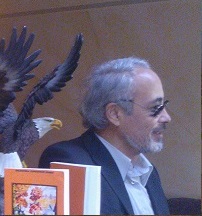 Holder Volcano

Member of the Uzbek Union of Writers

Chapter 7 of the short novel of Holder Volcano "Falling leaves"
(Translated by author)


7 chapter
Funny story of the tractor driver Sultan




- Daughter, have you collected information about the guy? -asked Raheela.
- Yes, mother, I learned that the tractor driver Sultan from the village of "Tuyamuyun", located at the foot of the Charvak mountains. According to him, near the mountain village flows the river, which originates high in the snowy peaks, where even in summer the snow does not melt. Healing water, the air crystal clear, the village is in the verdure he says. At the foot of the snowy peaks stretch for miles, pistachio, apricot and hazelnut trees, mountain ridges covered with tall thickets of wild raspberry, old spruce forests, where woodpeckers knock, run and jump squirrels in the pine trees, the chirping of birds - in short, a Paradise on earth. Here will go there, spend a day or two, and all You have, says he, will disappear forever the desire to return home, it is here in the farm Tillaquduq. If you want You can stay there for life he said.
And why is he leaving such a wonderful mountainous land here? How did he even get here? You did not ask him?- asked Raheela.
- The fact that he is out of his mountain village went to Tashkent to enter the University, but he failed, and he was ashamed to go back. He decided to work here next year to try again to enroll at Tashkent State University. Prior to that, he is graduated from proof those College and received a law tractor. And he found a job here. In short, that his fate is - explained Khurshida.
- Well, that aggravates the situation, and I'm afraid that your father will never agree to let you marry him because you're our only daughter. If you had brothers or sisters, it would be possible for you to give in marriage, at least in Canada, at least in Europe or in Africa .And I don't want you to go away in distant lands, because without you, I can slowly fade away like a kerosene lamp, which is running out of fuel. Yes, your father is strict but he loves you more than life, and that is why he is demanding to see you. In life anything can happen. In order not to happen something irreparable, we must be very careful. Especially you, because it all depends on you - said Raheela.
What if he wants to stay here and live? -Khurshida asked, not looking up from his work.
- And are you confident in this? He himself said about this?
- No. I'm just guessing.
- I don't know, daughter. You should talk to him about everything.A life of marriage is not a toy. Marriage is for life. But many lovers parted with their beloved, who immediately after the wedding, who later when there are differences and different issues between them. It's the fact that they didn't know about each other before the wedding. The world is a market and life together by. The person, who wants to buy something, must carefully inspect the goods. Or they can buy what he will soon have to throw in the trash. Well, let's say, you bought shoes in the store. In a day or two you feel it's too tight. Going back to the store and change them. A man is not shoes to be able to go and change. To not have to change after marriage, girls should be able to choose the right husband, after a careful examination and testing before getting married said Raheela. Khurshida thought then asked:
- Mom, what if I bring him here? I would talk about everything specifically in your presence.
- Not a bad option. But will he agree to this? And what will the people who see it with us? - said Raheela.
- I need to talk to him about this and bring him here - said Khurshida.
- Good - agreed Raheela.
Mother and daughter worked until lunch, during lunch, Khurshida spoke to the tractor driver Sultan, and he agreed to go there, where Khurshida with her mother. After lunch, did not wait long, the tractor driver Sultan arrived at the appointed place. After they shook hands, Raheela the first to start a conversation:
- I beg do not judge us strictly, son. Frankly, I know about your warm relations, and see that you are a good guy. Although I believe in you, but all the same I need to know the guy my daughter wants to link their fate. Don't get me wrong. In my place any mother would do the same. Khurshida told me about a mountain village where you come from. In my opinion everything is fine .But, you know, to confess, father of Khurshida strict man with a tough character, and I'm afraid he will not agree with me if I say that I intend to give her husband for you, since you live in a remote mountain village "Tuyamuyun". My question is as follows. Once you are accepted into Tashkent State University, you will go back to your village, or want to live in our area?
- To be honest, Auntie, I used to think that enrolling in Tashkent State University, I live in Tashkent. After graduation, I think to go to the native village, and there to teach lessons to students at a local school. And now I have other plans. You see, that I check young and I am only twenty-five, but I'm still not married. I'd show you my passport, so both of you have seen this,
But I left my passport at home that is in the tractor Park, where I live temporarily. I don't want to carry all the time, both in the area where the curfew, right? - He said.
After these words, Raheela, too, began to laugh.
- Oh, You Joker. And I, naive fool, believed. Don't worry. I believe you, son - she said.
- Thank you for your trust, Auntie. To be honest, though, my name Sultan, means king, but I'm really, pathetic slave of your daughter. Now I'm ready to do anything to be with Khurshida. Not to stay in these parts, I am ready even to go to the edge of the world if Khurshida wants. Day and night I thank God for what he sent me here, and Iet such a beautiful girl like Your daughter. My life acquired meaning only after I met her. I used to be a simple tractor driver. But despite this, I read a lot for example the novel "don Quixote Lamanchas". Loved the library of our village, where always reigned peace, comfort and tranquility. Come, walk between shelves, looking at books, and relax the soul. Dizzy from the fragrant smell of books, get drunk. Well, the library was for me something quiet resort, free resort, where people restore their health. Read Jack London, Tolstoy, Turgenev, Gogol, Cervantes, Hemingway, Pushkin, Kafka, Yesenin, Abdullah Kadiri, Chingiz Aitmatov and many wonderful writers and poets of world literature. Once I was asked if I wanted to earn a little in the field of sports. I grew, interesting you people of the Lord. So, who wants to earn money, especially in my situation? Of course, want. After that we went. We drove for a long time through the wilderness, crossed the desert, and went to the trailer of the truck, "lorry" of the Stalin era through the mountain passes, where we were being chased by the mute moon. A torn piece bedspread fluttered in the wind like a tattered flag on Mars. We finally arrived in a city. Walked into a building where there were people - a full house. There I was told to take off my clothes. I stand, then, in his shorts and holey t-shirt. They put my skinny arms like sticks, Boxing gloves, and one of them, says he, I am your coach, Mr. Trendeldinov, and you will participate in the world championship on Boxing. Then I accompanied with healthy big boys went to the side of the stage, enclosed by ropes resembling a sheep pen. When everyone walked out on the stage, that is, in the ring, I left my opponent, a short, bald referee with a goat's beard. When the referee introduced us, I was surprised to see his rival, with overly large heads and slanting eyes. The opponent reminded me of Bigfoot, and he continually jumped up and down. His muscular body, from head to toe was covered with tattoos. He drew on his body, the devil knows what: naked mermaid, an octopus, a dragon, devil, Rhino, skull, cemetery, graves, and crosses - in General, a gallery of creepy paintings. Despite his scary appearance, he seemed a good, honest, helpful friendly honest God-fearing man. Finally it was the long-awaited Gong. You see, slash the opponent hits me. I said that you, dear scythe rival, beat me, that said, have I done wrong?! And slash the opponent instead of stop and apologize, even stronger began to beat me. Well, I think things... Crazy to some a patient who just escaped from a psychiatric hospital. He hits and I'm freaking out screaming, through crushing blows. Wanted was to turn to the undersized bald referee with goat beard, but he could not, began to poison us with each other:
- Fight! Fight, scum fighting dogs, rabid bulldogs and pit-bull in human form! Kill, gnaw, throat each other, and tear, meat ripped up!
I said shame on you, comrade undersized bald still narrow-eyed referee with a goat's beard?! Then slash the opponent hit me in the face, and I almost fell. Look - my coach, friend of Trendildinov, also looks with interest and does not take the necessary measures of intersection to solve problems peacefully sitting at the negotiating table.
- Help, people-All! Christians! Jews! Muslims! Bhuddists! Godless atheists -Communists! Well though someone! - I shouted to the whole room.
But my voice disappeared in the noise of onlookers. And people used to to separate us, on the contrary shouting in unison:
- Go-RIL-La! Go-RIL-La! Cross eyed gorilla, kill the skinny boxer with hands like sticks!..
Well, I think, really, not a bit of pity left in this world. Well, to my happiness, came the long-awaited Gong, saving me from the apparent death. I was moving on all fours, barely reached the stool, which was missing one leg. Sitting on a stool, my nose broken, eyes lined on his forehead a lump a size of a lemon, mouth dripping bloody saliva as the count Dracula. Breathe. Suffocating. Give, grew, water. The coach opened the thermos and pours me a cut in a Cup of boiling water. I said, well, you are a greedy miser, where, grew the sugar? Eaten?
- Oh Yes! - remembered my coach friend of Trendeldinov, and pulling from his pocket bodysuits sugar "Comrating", throws in a glass. Coach Trendeldinov, says he, let's chug it down to the bottom, sugar, helps alert, which had lossed a lot of blood in the ring. Then I started to rush, let's great faster, they say, the second round started, and again sounded the Gong. One pot-bellied woman in a quilted jacket with a short, curves and skinny legs in a dirty canvas shoes without soles walked across the stage, raising high the banner with the words "Round 2". I said, comrade coach Trendeldinov, but may not be necessary, they say, stop this bloodshed? Coach, says he, no, not Sultan. People, bought expensive tickets with great hope to see a bloody hand to hand combat modern Gladiator with a fatal outcome. We, says he, now, is doomed. If you pause the fight, the crowd, very angry and could attack us and trample, stoned. Can even apply to us in the Basmanny court, so we returned them the money they spent from the family budget to buy expensive tickets. You, says he, must fight to the end. Then I drank the second glass of water, got up, and again started beating him in the literal sense of the word. When the blows intensified, I began to suspect that slash the opponent whether wearing iron gloves, or inside the glove he put lead knuckles. I'm covered in blood, yelling wildly, beckoning for help, but no one, unfortunately, never responded to my call. In the skull of my head came a solid crack from where a red fountain spurted blood. Bald and diminutive referee with goat beard did not run in the paddock and was driving around in my blood, like ice skating at the arena and shouted, pitting us all against each other. Then, to my luck, the doctor asked to suspend the combat, to cover a crack in my skull something and bandage tape, and that skinny athlete (me) can die, and the carnage will stop earlier than scheduled, greatly disappointing the audience. Only then the referee decided to give me a break. After examining my wound and measure its width and length by using a hand caliper, and the doctors were so scared, pale face as the boy was attacked by a vicious dog. In their conclusion, the crack in my head was so dangerous that through the crack was visible to my brain, like a walnut kernel. Doctors quickly after consulting among themselves, decided to cover the crack of my skull antiquated way, and they put her back a towel. When the towel disappeared in my head, they've sealed the gap with tape. Then let me again return to the ring and fight to the end. But I could no longer fight, as I lost consciousness and fell. In-about-from, so please forgive me if I say silly words that you don't like, -finished his funny story Sultan, wearing his skullcap, which he kept in his hand. After hearing his story, Khurshida and her mother laughed heartily.
- A joke is a joke, but I do not intend to part with Khurshida, even in that light, if not ask about it me she - said the tractor driver Sultan.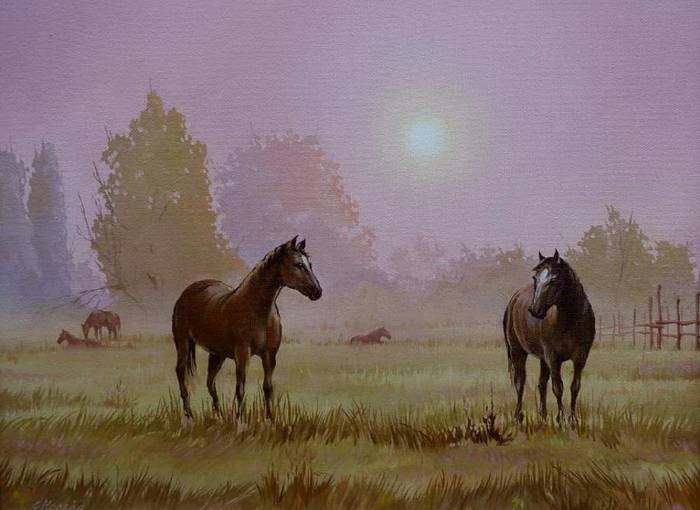 Обновлено (21.11.2018 20:25)
Holder Volcano


Member of the Uzbek Union of Writers


 

6 chapters of the short novel of Holder Volcano "Falling leaves"




(Translated by author)


Chapter 1

Spring fields




 

Spring, birds singing in the high poplars at field mill, where the white acacia. Recently, among the thorny branches of acacia could see a nest of magpies, and now it disappeared from sight among the leaves and flowering bunches of the tree. Magpies are very smart birds. They know that boys can't climb a tree, whose thorny branches, as its sharp spiny thorns may hurt to scratch his hands and feet and even to rip their harem pants. Acacia flowers have captured the soul like Souvenirs made from pieces of white porcelain. The pleasant smell of these bunches winds spread across the field where farmers work. Khurshida worked, knocking hoe on the rocky field. It was a girl of eighteen, fair-skinned, with a dense and gentle curly dark brown hair, with a slender figure and magnificent Breasts, with hazel eyes, and clear eyes. She is so beautiful smiling coral lips, showing white healthy and beautiful teeth, that a lot of guys in the village were crazy about her. But Khurshida did not pay attention to either one of them, as she felt for him the tender feelings called love. His indifference she has increased "oppression" on the lovers. She didn't even answer your love letters that boys wrote and passed her through her friends.

Khurshida"s father Abduljabbar very strict towards his daughter Khurshida and his difficult character and behavior more like a stepfather than her own father. He often drinks alcohol and satisfied with drunken fights. But Jabbar is a good specialist in the field of sheep shearing. He works as a mechanic on a cattle farm. Repairs on the farm milking machines, automatic drinking bowls, conveyors, cleaning barns, combines, forage shredders and so on.
Although Abduljabbar is not a religious fanatic, but he strictly prohibits Khurshida to go to parties dedicated to the birthday of her classmates, which was attended by boys. Abduljabbar swore that if his daughter Khurshida will disgrace their family, he will curse. So mother of Khurshida Raheela every day insisted that she did not play with fire and was cautious in communication with her classmates and other unknown guys, Raheela knew that the class of her daughter not all girls were friendly with Khurshida. That is, some girls are jealous of Khurshida and look at her with despise, because she's pretty and many guys were in love her but not with them.

With these thoughts in mind, Khurshida continued to work on the field, leveling soil for planting cotton. She loves to work in the fields alone, as nobody bothers to think about what she wants to think. Loneliness for her freedom was like the boundless sky. Sometimes Khurshida stops to straighten her back, listening to the distant of a sad voice of an alone hoopoe which comes from Willow Grove, where the wind wanders drunk. There, in the distance, a willow grove, a cotton field, she saw an alone tractor that silently glided over the field like a ship on the surface of a green sea of cotton. Khurshida thoughtfully watched agile low flying swallows. They flew over the fields, almost touching the ground, and its white belly and wings similar to bent black daggers with sharp blades. Then again she set to work, humming a sad song about love. And the sun slowly but surely rose to the tip of the sky. Khurshida worked on the field under the scorching sun and stopped work only when on the hill, the cook Tubo shouting the beginning to entice people for lunch.

-Choygaaaaaaaaa!- she cried, and her voice flew over the spring fields, like a bird freed from its chest.

Leaving the hoe on the edge of the field, Khurshida went to the side of the field mill. Approaching her, she smelled a delicate sweet smell fragrant acacia which bloomed near the field camp, which grew tall poplars and weeping willows. At this point, of the cultivator, which stopped near a field camp, jumped a young tractor driver of about twenty to twenty five, in a worn skullcap, tall, broad-shouldered, snub-nosed, with curly hair, with a mustache above fleshy lips, a peculiarity of the guy with a green scar on his left eyebrow. It gave him the appearance of harshness and masculinity. His appearance resembled a Roman Gladiator who fought with his bare hands with hungry tigers. Khurshida had not seen this tractor driver in these parts, but I just remembered his tractor, which she just watched from afar in the cotton field. While Khurshida was removed from the branches of the mulberry tree a small pouch in which was bread, sugar, welding, aluminum spoon, and a mug with a bowl, the tractor driver was already standing in the queue at the field tin samovar, where workers were poured theirself a Cup of boiling water. Taking her mug, Khurshida poured her the tea and also got in line. Seeing her, the guy turned to look and gave up his place. Not expecting such a gentleman, Khurshida thanked the young tractor driver and kindly smiled. After a few minutes the guy started to talk to her:
- Girl, let me tell you an amazing story while we stand in line. In short, yesterday I go past this tree - beauty!- from the white acacia flowers that you can't stop looking at. The acacia blooming was like a young bride in a white wedding dress! I stopped involuntarily admiring the unusual beauty of this tree, looking at it with delight, like a farmer who came from a distant village with a bag on his shoulders, who first saw the city. Then there was gunfire. I thought, there was a terrorist shooting at me from the machine gun. I quickly lay down on the ground, so he couldn't fire the whole clip at me. I layer down for a while and I look, and there's a singing magpie. Well, I felt ashamed about myself. Stood up, looked around, found my dirty skullcap, shook off the dust, jammed it on my head and went on. It's a good thing nobody but me saw it.

After hearing the story of the tractor driver, everybody having lunch amicably laughed. Khurshida too, then came their turn. But, unfortunately, boiling water ceased to flow from the samovar's tap. It turned out that the cause was the fact that in the samovar boiling water level dropped below the level of the faucet, so it stopped showering. But the tractor driver found a way out: he asked Khurshida to bend the samovar and pour the boiling water into a mug, which he set up.

- Okay - agreed Khurshida and when the young tractor driver framed his mug to the tap of the samovar, Khurshida gently bent the samovar. But then disaster struck: Khurshida accidentally dropped the samovar, and he fell over, the young tractor driver scalded with boiling water. Tractor driver, making a face from a severe burn, started to jump from the pain, leaning on one leg, pulling air into the lungs.

- Vsss -ah-aaah! Vsss-ahh-ahhhh! Ooooohhhh!- he jumped from the stinging pain and spun like a dog chasing its tail.

Khurshida started to cry, not knowing what to do and how to calm the poor tractor driver. And workers who had already begun eating, all got up from their seats, feeling for the tractor driver who accidentally scalded with boiling water. Some laughed, especially when the timekeeper Abdelkasim cried, you take off your pants and jump right into the pond!

- Oh, excuse me, for God's sake, mister! This is all my fault!.. Badly burned?! Poor!.. I don't know Your name... what your name? - Said Khurshida, crying and circling around the guy in confusion.

A young tractor driver, holding his scalded thigh, stopped for a moment and with a grimace on his face said:

- Me? A-aaaaah- ahhhh... my name is Sultan!

- Oh, Mister Sultan, sorry! I didn't want to... - said Khurshida with tears in her eyes.

-Don't worry, girl, about anything... Aa-a-ahhh-ahhh... Ahh-ahh-ahh....My leg will get better before the wedding said tractor driver Sultan, smiling through the grimace on his face, continuing to jump on one leg.
Then he asked, distorting the face of unbearable pain:
-And You? What's your name?

- Me? Oh yeah, my name is Khurshida.

-Very nice... Vsss-aaaaa-aah... Yyyyh! That's a beautiful name, like you, honestly. You, Khurshida, do not pay attention to me. Better get yourself something to eat. Its lunch time right now... - said Sultan, continuing to rely on one leg to alleviate the pain.

- No, I will not eat. Well, how am I supposed to eat when you suffer because of me? - cried Khurshida.

Here the tractor driver Sultan stopped limping and said.

- Well, Khurshida, now quit crying! After all, people are looking at us. Already released the pain, don't you worry. I have everything in order. Don't you believe my words? Well, then I have no choice but to prove to you that I'm healthy as an ox.
Here look and, humming a tune, he began to dance, stamping their tarpaulin boots, as a dancer with great experience.

Sultan danced, whirling like a whirlwind and singing cheerful music. Seeing this, everyone around laughed as if the viewers who are watching a funny presentation of a wandering artist. Khurshida was also smiling through her tears, rejoicing that the Sultan let go of the pain.



 

 

 

Обновлено (16.04.2018 01:13)

Holder Volcano


Member of the Uzbek Union of Writers

 

I believe the time will come



All people who living on this planet, Uzbek and Canadian, American and British, Japanese and French, Israel and Arab, German and Russian, and all the others are siblings and children of Adam and Eve! Therefore all of us, all people of Mother Earth, regardless of nationality, race or religion, should live in peace and harmony as children of one family!


I believe the time will come when humanity will realize this and remove all the borders, the maintenance of which cost billions and billions of dollars for the budget, dismantle all nuclear intercontinental ballistic missiles and put an end to senseless wars once and for all.


And then the world will have one neutral capital and just one parliament and one a president. All citizens of the planet will have the same identification cards. People will be able to move about the planet freely without any visas and without bureaucracy. They will stop wasting crazy money on arms and wars, as well as on strengthening borders, on intelligence and counterintelligence, on the nuclear cruise missiles and anti-missile defense.

Then, to everybody's surprise, terrorism and corruption will disappear from the face of Earth.




Canada,Toronto.

2012.

 

Обновлено (01.10.2017 16:35)

Holder Volcano


Member of the Uzbek Union of  Writers


 

Evening lights



I love your evening lights, Toronto,
and flying flocks of wild Canadian geese,
which will fly low over me,
waving it's wings and chorus,
along the corridors of your skyscrapers,
and will fly over Lake Ontario,
Silent, disappearing somewhere far away,
where I look from the shore in silence,
turning my hair into a straw
against the background of a blazing sunset.



26/03/2018.
7:21 pm.
Canada, Ontario.







Dance in the Rain



The night street is a deserted disco,
Everyone is gone, they are brutally tired.
The rain pours noisily, as if from a watering can,
Without violating the rules of nature.

The lights in the windows are still burning,
Thoughtfully and sadly.
Thunder blows up a projectile in the sky,
Flashing instantly.

The rain floods the street with tears,
There is fiery-hot dance.
The Twilight with Bound Eyes,
Dances proudly, like a Spaniard.



25/09/2017.
9:21 AM.
Canada, Ontario.

 

 

Обновлено (27.03.2018 00:00)

Holder Volcano


Member of the Uzbek Union of  Writers


 

To all of humanity



Oh man, don't play with fire,
illuminating with a torch in your hand
the tank with gasoline.


Learn to solve problems peacefully
while there is still a way out of this situation
still didn't get the third nuclear
world war.


Yes, I know,
in the event of war you have
their shelters, underground bunkers.


And the common people in the world?


Where will they hide?


In the subway?


If you start a global nuclear war
then the metro will not help humanity,
and no missile defense system
which knocks and blows
uncontrollable ballistic missiles
in the air.


Well, shot down, blown up missiles.
And then what?


What will happen to the air, such a single,
which humanity breathes?


Because there is no other oxygen
and there is no guarantee that after the war
air, water, winds, rains, birds and insects
become carriers of the epidemic.


Oh, my friend!
You have no right to sit idly by
You have to find a way out of this situation.
It is your sacred duty and direct responsibility.


Because the people chose you in a fair election,
trusting you with their fate.


Let all the people on the planet live in peace and harmony,
as a member of one  family,
regardless of their nationality, race and religion!


Let weapons and rearmament disappear from the face of the earth
Barbed wire and, boundaries too,
the contents of which are spent each year
billions and billions of dollars
from the state budget.


Let the passport will become
in the most primitive document
in Museum exhibit!


And let a single passport become
pure human conscience
throughout the world!





04/09/2017.

10:16 PM.

Canada, Ontario.

 

 

Обновлено (16.04.2018 15:51)