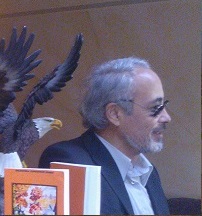 Holder Volcano

Member of the Uzbek Union of Writers

Chapter 19 of the short novel of Holder Volcano "Falling leaves"




Comet



A month later, it became clear that Pathella was a sick man. When he started having an attack, his stomach stopped working, and the undigested food left in full swing. He was tormented by terrible headaches. At such moments, Khurshida lost in panic, not knowing what to do and assisted him as best they could, giving him the pills with water. Pathella often was in the hospital and was treated. But since his illness was chronic, he could not fully recover. However, the district social security he was given a pension of a disabled person, but this meager pension is not enough even for medications. For this simple reason, Khurshida had to get a job to survive. She did just that. Found a job in the city and settled into the dining room where she had to clean the vegetables, boil water, clean the boilers, to watch out for cottonseed oil in the cauldron, where the fried ingredients to the broth and, accordingly, to clean the premises and territory of this enterprise catering. The work was heavy. But Khurshida did not complain. It was much better than sitting at home. She was the first to arrive by bus at dawn, when the streets were dominated by the sleepy silence, and sad red street lights. Sweeping the area of the canteen, she was thinking about Sultan recalled with a sigh those unforgettable bright days that are gone forever into the past, into eternity. She worked all day tirelessly and the evening, wearily returned home, sometimes falling asleep in the bus standing. Arriving from work, she cooked dinner and after dinner washed dishes, made the bed for her mother-in-law. Only after that and she went to bed. One day she woke up from her husband's sobs and was scared. Quickly jumping off the place, she asked her husband, what about him?
-What is happening Pathella!? Again your stomach is bothering you? Is it a headache? Let me take your temperature. I now will light up and will bring you some pills - she said.
- No, Khurshida, do not, honey, do not worry. My stomach is not in pain - said Pathella.
- Then why are you crying? - surprised Khurshida.
- You know, I had my first wife Oktamhon Sharovarova.I saw her in my dream - answered Pathella, continuing to cry. Hearing this, Khurshida froze like a wax figure in Madame Tussauds Museum in distant and foggy London. Coming a little to herself, she looked at her husband in disbelief and asked:
- Were you married before?
- Yes, Khurshida. I'm sorry, honey, I didn't tell you that before. You know, love, I was afraid you'd leave me when you found out I was married. Correct to say that an owl in a sack cannot hide, even if the bag is leather. You see, the mystery came out of my mouth. And why hide truth from you, when you the most a close and staunch man for me? You work day and night to keep our family afloat. Sometimes I feel ashamed that I can't help you. I was supposed to be working, and you're supposed to be at home, like a Princess. You don't think my conscience hurts me? No, I sometimes cry at night, clenching my teeth to creak so that you don't wake up. I pay that I sit at home instead of providing you and our family with all necessary things, working as the guest worker in the neighboring countries, as well as many our compatriots. Earn money and build a gorgeous house, buy a car, buy you gold chains, rings with diamond jewelry, expensive dresses... I am eternally indebted to you, Khurshida. You're my angel in human form... - softly cried Pathella, shaking her shoulders.
At this time in front of Khurshida also began to Shine, the bitter tears, in the light of the moon shining over the translucent curtains of the Windows. She rushed into the pastel and by firmly pressing a pillow to his eyes, began to sob bitterly. Pathella wanted to reassure her, but she removed his hands that touched her. Those hands she felt suffocating serpents of the tropical forests of South America. Khurshida did not tell her mother that her husband Pathella was married to her. She just didn't want to stab at the heart of her mother. Sorry mom already afflicted with suffering. On the contrary, as if nothing had happened, she continued to work in the same dining room where she worked and at least for some time, forgetting about the negatives, plunging into an endless ocean of memories connected with the tractor driver Sultan. Recently she went to her parents and went to the field to the camp, where, as before, the blossoms of white acacia, which has become a symbol of love Khurshida and the tractor driver Sultan. It turns out that she, as before, vigorously flourished, and the nest of the magpie disappeared, being covered with bunches of white acacia flowers, where Khurshida and Sultan was sitting, enjoying the beauty of the Paradise tree. From the branches of acacia quietly and sadly, like tears, fell on a wandering spring wind white petals, blooming bunches. Khurshida wanted not only just to visit but to live alone and the rest of her life, wandering around the paths through the fields, thinking about those days, about the hilarious conversations, the smiles, ringing laughter, the gentle touch of hands and a passionate searing kiss.
Then something wonderful happened. Khurshida was working in the kitchen, frying meat in a huge cauldron, where the noisy warm cotton oil, making sparkling sounds. Suddenly one of the officers the dining room, which the maid who cleaned the tables, told Khurshida that someone asks.
- I do not know a man named Sultan. He's wearing a plaid cap, sitting at a table by the fountain, and he asked me to call you! - She said.
Hearing these words, Khurshida almost fell down. She stood there like a dope with a skimmer in her hand and couldn't move as if her legs were nailed to the floor. In a minute she came to herself, and did not know what to do.
- My God, really?.. Is it true, Gulshanoy?! But today is not the first of April by chance? No...Oh, uh, hot oil, leaving it unattended is dangerous. It can burn and flame to envelop the whole kitchen. Expensive ingredients will burn... And what if I turn off the stove for a while... No, you cannot... The chief's gonna get me out of work. Oops, water in the pot boiled!.. she thought, and she quickly lifted the lid of the pan.Then accidentally dropped it on the floor. The lid thundered and a few drops of boiling water fell on her thigh. She jumped from the burn, making a face.
- Vss-ah! Vss-ahhhh! - Khurshida hissed, clutching her thigh, involuntarily remembering that distant incident with the tractor driver Sultan, when she scalded his leg, spilling boiling water from a samovar field.
- Here Satan, and, as luck would have it... No,I'll turn the stove off. Whether, that will... What happiness and, what happiness! He arrived on the end of the! Found me all -???! Thank you, Lord God, thank you! I'm out of here... I'll go out now... we will meet again... Oh, how I worry, my hands shaking... Hey, where am I in that dirty robe? What will Sultan think when he sees me like this? I need to change - thought, Khurshida and turning off the stove, ran to the side of the cupboard with clothes. But Khurshida tripped in a pot and fell on the floor. It was the cave of aluminum pots, which she had recently washed, as they say, to the holes. There were pans and buckets, like basins in the Eastern bathhouse with good acoustics. She quickly extricated herself from the dishes and ran back towards the locker where she'd changed clothes after work, for a small screen. Khurshida took off the robe and quickly dressed as the experienced soldiers re-enlisted during the alarm and was going to run on the street, but stopped again, seeing that she put on a dress inside out.
- Oh, well, what is it, huh?! - Nervous Khurshida, dressed, rushed to the exit. But in the dishwasher, her dress caught on to some tin, and it was torn wide screen! She wouldn't stop if the size of the hole wasn't that big.
- Oh, not this, God!.. Well, why am I so unlucky?! Now ripped my favorite one dress, and there waiting for me my beloved Sultan! What am I supposed to do? Let me put on my robe. Let it dirty, but it will cover the torn part of the dress, she thought, and ran again to the side of the locker. There she wore a dirty robe over her dress, removed the white cap from her head and corrected her hair. Then I remembered the lipstick.
Somewhere in her robe pocket needs to be lipstick... Ah, here is, seems, has found... she thought, fumbling in the pockets of the robe, shaking like a drunk with her hands.
Looking at the piece of mirror that was attached to the wooden door of the cabinet, Khurshida started painting her lips. But the excitement she had put on lipstick wrong and wanting to correct this, she smeared lips. Khurshida quickly wiped the smeared lipstick, with the hem of her robe. After that, Khurshida decided to go outside, no matter what. But when she was running, suddenly she tripped and fell on the tiled floor of the dishwasher hurt her feet. Severe pain forced her to sit. She cried grabbing her sprained leg. At this time, we ran Gulshanoy , that same employee dining room that were cleaning tables. She began to reproach Khurshida supposedly why she hesitates when there waits for it the person?
- Why are you sitting, Khurshida?! There waiting for you you're man! Who is he? He's probably a money-lender, and he came to ask for a favor from you to repay your interest-bearing debt. It's not good to keep a person waiting that long. Come on, rise up! Why are you sitting here?! - She said.
- No, I can't Gulshanoy, I twisted my leg inadvertently - said Khurshida.
- Yeah?! Oh, My God! Sorry, Khurshida, I don't know! Oh, does it hurt? - The cleaning lady said.
- Yeah, - nodded Khurshida, continuing to cry and looking at Gulshanoy through tears.
- No, I have to go! Let us, help me, please, to stand up, Gulshanoy. I leave, and you turn on the stove and watch the stove for me-she said, trying to rise. Cleaning lady tables Gulshanoy helped her up, and she got up. Khurshida went, hobbling on one leg and resting her hands on the wall. But when she got out, there was nobody at the table by the fountain. Seeing this, Khurshida's heart trembled. When she went to the Desk, there lay a large bouquet of red roses and a note. Khurshida quickly took the note and recognized the handwriting of her beloved Sultan.
- No, don't go, don't go! - she roared, not hesitating visitors who were sitting at tables and eating Uzbek the delicious spaghetti, called "Lagman". Khurshida looked around, continuing to cry from sorrow with a distorted face, like a drunken alcoholic. Then, sitting at the table, began to read the note of the Sultan through the tears trembling in her eyes. The content of the note was as follows.
Hello, Khurshida!
I apologize for what I stupid coming put you in an uncomfortable position in front of your management and to the labor collective. The thing is, I, through my old acquaintances, found out about you and your workplace, and I just wanted to see you. To see and to speak as before at least an hour, even for a minute. I am a fool; ever allow such unforgivable mistakes in relation to you and each time hurting you. Here I am again disturbing your quiet moonlit pier, bursting in here like a terrible Typhoon. At first I thought you were mad at me so much that you didn't even want to come out here and see me. Then I came to the conclusion that you simply did not come to a meeting with me, only to preserve the reputation of your beloved husband, their parents and fear of gossip and rumors. And I think you did the right thing. But believe me, Khurshida, I am glad with all my heart that you are alive and well and have finally found your happiness. I won't bother you anymore. Say hello to aunt Raheela and forgive me again for disturbing you. I now live in a very different far-off state, which is called memory. Live there, as before, sitting at our familiar family field table under blooming white acacia, running with you in the direction of the field camp, when there's a storm coming, under the crashing of spring thunder, illuminating my face in the lightning and soaking wet, laughing. In the autumn all thoughts drive your bulldozer "Altai" in yellow on a night the fields covered with fog, thinking only about you. You pop up in my memories like that beautiful blooming white acacia in the distant spring. Sincerely yours, still loving tractor driver Sultan.
After reading the letter, Khurshida for a moment froze. Then clung her head to the table and screamed:
- Nooo! nooo! - She cried a wild voice, hitting her fist on the table. She was crying, no hesitating, even visitors who froze in surprise with forks in hand. Then, Khurshida stood up abruptly and dash ran outside, hoping to have time to see the tractor driver Sultan who sits in a taxi and immediately to stop it. But the tractor driver Sultan was not there.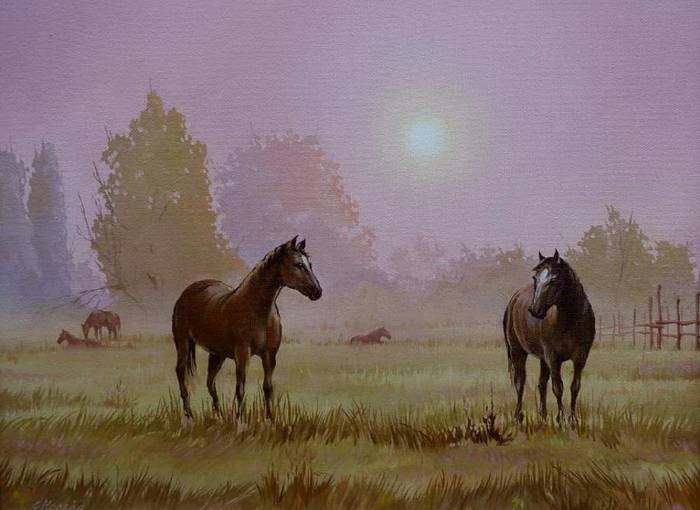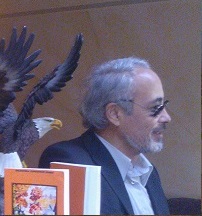 Holder Volcano

Member of the Uzbek Union of Writers

Chapter 18 of the short novel of Holder Volcano "Falling leaves"




Pathella



Before going to the registry office, Khurshida cried at the door, hugging her mother.
- Do not cry, dear, everything will be fine. God forbid that you become happy with Pathella's, Amin! - Raheela tearfully blessed her daughter.
Khurshida went on a car to the registry office, accompanied by her best friends. Friends congratulated her, envying her white. They happily and loudly laughed, whispering in her ear about something intimate. But Khurshida mentally lived in her own world, plunging thoughts in the fog of memories, thinking only of Sultan. Although she smiled at her friends, but inside was crying. Judge for yourself, why should she have a beautiful and rich groom. If she does not feel for him not that there is a feeling of love or sympathy, but even the slightest interest? Who knows, maybe in the future it will release nostalgic memories on bright days which it lived with the tractor driver Sultan, will release unbearable melancholy on it. Maybe with time she'll get used to Pathella. But at the moment, Khurshida felt not human, but rather some empty dishes. She looked at the merriment of her friends, empty eyes, and in her heart, like the empty autumn fields, wandering black cold wind of separation, as a belated farmer in the fog, who returned to his shack with a bag on her shoulders, where the last of the beets, uprooted them. On the way to the girls joined the boys headed fiancé Pathella. He gave her a lush bouquet of flowers and smiled a satisfied smile, talking about something, but Khurshida to listen even it is not wanted. She was thinking about one person, and I think our dear readers know who they're talking about. Pathella sat next to Khurshida and they went further in the direction of the Registrar office. Then registration, the exchange of wedding rings, a Sharia Nikah (engagement) congratulations and all that. Despite the severe winter, according to the order of the chairman comrade Kokyutalov abu Salasarimsak ibn Guslvozhib Tezaktelbakezavuch sped up the wedding. The wedding was attended by the Chairman of the collective farm, and many guests from different places Telekomunikasi district. After made a report to the great chairman of the collective farm comrade Kokyutalov abu Salasarimsak ibn Guslvozhib Tezaktelbakezavuch, have given the word Khurshida's father to Abduljabbar. He was, as always, tipsy and made a toast:
- Hello dear guests! Welcome to my daughter's wedding Khurshida and my son-in-Pathella! I am extremely glad that my daughter married a nephew of our dear great chairman comrade Kokyutalov abu Salasarimsak ibn Guslvozhib Tezaktelbakezavuch! Thank You, our dear wise great permanent chairman comrade Kokyutalov abu Salasarimsak ibn Guslvozhib Tezaktelbakezavuch that you have in this world! You've helped me all your life and made me a man! You gave me the extraordinary responsible position of the mechanic of a livestock farm of our collective farm. Thanks to you, we have jointly raised the economy of our collective farm, increased the number of livestock. Many people tell me, they say, you work for many years in this livestock farm in the same position. You're not bored with all this? Well, did you understand me at last, dear guests that I love this job and can't exist without it. Sometimes I go to the city and in an hour I begin to yearn for a livestock farm of our collective farm. Nostalgia is starting to take over and eat me from the inside out. I, unlike you, I miss the smell of hay and manure, you know? I will come to the farm, inhale the air, where the tart smells of manure and hay, and swirl my head from the buzz. You're laughing in vain, gentlemen. I'm quite serious. I also love the smell of newly mown with a combine corn, I love the expanse of corn fields. Oh, out in the wide field, and the soul sings like a Nightingale under the moon! I go through pastures in boots and in a sweatshirt, shearing sheep in the spring. You can't even imagine how much I love watching herds of cows grazing in a thick autumn fog. Their dim silhouettes in a quiet gray fog captivates me, bewitch me, and milkmaid? They are also in the pre-dawn twilight coming on creaky carts to the farm in silence, milking cows. Oh, my love, the ringing of the rattling empty buckets at dawn, in foggy silence. And there behind the barns and corrals of the mountain is the stack of pressed hay. Like gold bars on the shelves of Swiss banks! Like the pyramid of Pharaoh Tutankhamun in the Egyptian deserts! If I die, then bury me not in the churchyard, and on-site animal farm our farm Tillaquduq and lay over my grave high stacks of pressed hay in the form of the pyramids of the ancient pharaohs of Egypt!..
Sorry, once I start to think about the kindness of our distinguished chairman comrade Kokyutalov abu Salasarimsak ibn Guslvozhib Tezaktelbakezavuch, tears will flow by themselves from my eyes. Because our esteemed chairman comrade Kokyutalov abu Salasarimsak ibn Guslvozhib Tezaktelbakezavuch first noticed and recognized my God-given talent! That sin to conceal, Yes, I confess that I really gifted person in the field of shearing of sheep. But they say that somewhere out there, beyond the ocean... well, in America, that is, in the hearth of world imperialism, the bourgeois annually organize sheep-shearing competitions among Texas cowboys and these cowboys in hats and in rough jeans cut for an hour fifteen and sometimes twenty sheep. And I can cut more than a hundred sheep in an hour! There is a difference? Yes still not tying sheep its feet! As they say, one-time-and on a striped mattress! To dispel your doubts like the morning fog at sunrise, I can demonstrate a complex trick right here, in front of your eyes - said Abduljabbar.
Hearing his words, the guests applauded in support, endorsing his initiative. Abduljabbar connected the ends of the wire synchronous electric machine with the input of the amplifier musicians and shouted:
-Come on, the goat in the Studio! The two quickly brought the goat, grabbing her by the horns and Abduljabbar, replacing the big tip of the clipper with the small one, got to work, demonstrating his high art in the field of shearing sheep and goats. Guests led by the chairman comrade Kokyutalov abu Salasarimsak ibn Guslvozhib Tezaktelbakezavuch watched the action of Abduljabbar with great interest and curiosity. In a few minutes Abduljabbar performed the trick, and surprise guests gasped, then applauded him, shouting "Bravo!", because Abduljabbar wrote using the typewriter on the side of the goat the inscription "Chairman Comrade Kokyutalov abu Salasarimsak ibn Guslvozhib Tezaktelbakezavuch". Seeing this, the chairman Comrade Kokyutalov abu Salasarimsak ibn Guslvozhib Tezaktelbakezavuch and his bodyguards with black glasses, all got up from their seats and stood and applauded the great herdsman to Abduljabbar, admiring his art. Then hired a singer with a delicate velvety voice began to sing a song similar to the crying women and drunken guests began to dance to these songs, snake-like movements of the hands, moving her ass, raising his eyebrows look like black leeches. The wedding took place peacefully, and when the guests left, Khurshida with Pathella left alone in the room for the newlyweds to start their honeymoon. The embarrassment and shame and the indifference Khurshida even looked out of the corner of the eyes in the face of Pathella. When he got close to her in the intimate sense of the word, she screamed in pain. She closed her eyes and imagined that she was not moving closer to Pathella, and her lover, a guy, tractor driver Sultan. After sexual rapprochement she lay, turning away from the groom Pathella, not wanting to see his face. Pathella hugged and kissed on the lips, but Khurshida was lying, still tightly closed their eyes and thinking about love. Then they are washed, completing the Shower. But when Khurshida woke up at dawn to the custom to sweep the yard, she was terribly frightened by seeing a man lying next to him. There lay not the groom of Pathella with which Khurshida was in the registry office, and who was sitting with her at the wedding table, and quite a strange man with a large head, with a nose like a potato, and with too narrow eyes. He smiled at her greeting, and began to hug her.
- Well, Hello, honey, how was your vacation? - said he and tried to again to address these the most... well... you probably know what this is about, don't you? Then, Khurshida stood up abruptly from the scene, covering her pillow with the elastic chest and pulled back. She cried out in a loud voice, trembling with fear. And the man began to calm her down.
What are you yelling? Are you sane? The neighbors will hear! We have bad neighbors and they are not only jealous of us, but hate us! What are you afraid of, Khurshida? It's me, your husband Pathella! Don't shout for God's sake, I'll explain everything! In short, instead of me, the role of the groom was played by my friend, whom I hired for a certain amount of money. He studied at theatrical Institute, actor's faculty. You know, one scholarship is not enough for students. They also want to eat well, dress nice, buy some ice cream for the girls to dance at discos, where the sparkle of the colored rays, then fading, then again. Jump to the beat of the music. Maybe my words Might not sound serious to you, but it's true. My friend played he had been entrusted with the role brilliantly! It's good that you were lying with your eyes closed yesterday and didn't want to see me. And then this scandal would have erupted last night when the envious neighbors in the yard were full. Thank God He saved us from shame! Khurshida, well, give you to understand, finally, without these intrigue you just refused to marry me, you know? Because you're a very beautiful girl. Rather, they were a girl until last night. Well, I just had to do it because I had no other choice. Well, what was I supposed to do if I'm crazy about you? I love you, Khurshida! I, without hesitation, ready to sacrifice my life for you! I know you don't like me. But I was ready for anything, up to such meanness as a fraud. I was hoping that we eventually all will be settled and formed between us, well, if not love, then at least some kind of warm relationship through the bonds of marriage - explained Pathella.
Hearing this, Khurshida wept, covering his face with a pillow.
- What vile people! What horror! What a misfortune! God, why are you punishing me for something?! What have I done to you?! - She cried, then abruptly got up from their seats started to get dressed. Pathella scared and going to Khurshida, tried to grab her hands.
Where, honey?! - He asked.
- Don't touch me with your disgusting filthy hands, you bastard! Depart! I'm going to my parents! - said Khurshida, continuing to cry.
- Khurshida, don't do this, come to your senses! If you don't think about me, at least think about your parents; think about your poor family's reputation! Pity your mother, after all! What will people think, who walk not with the help of their feet, but with the help of language?! They can spread rumors that you are not a virgin! What will happen then? Your parents and your family will be disgraced! What will my friends say?! They'll laugh at me! Think before you make any decision! Well, to hell with it, let my friends laugh at me! I am ready for any humiliation, in order to be with you together! Believe me, I love you, Khurshida, love, and not want, to you were disgraced! That's where the dog is buried. I am ready to kneel before you and, without hesitation, to tell you that it is an honour for me to be your obedient slave! If you leave now, I'm done. I'll take the rope, lather it gently and fsht! - hang said Pathella. After these words, Pathella Khurshida was nothing left to do but accept the fate, whatever it was violent.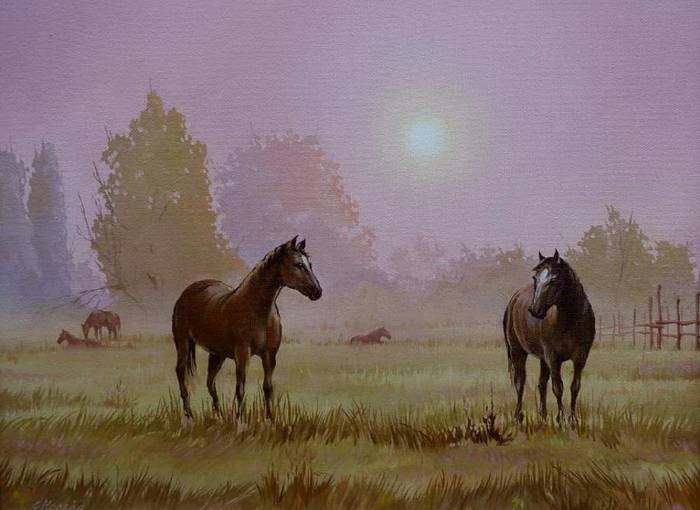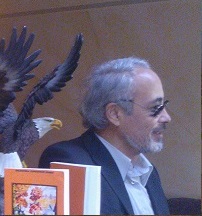 Holder Volcano

Member of the Uzbek Union of Writers

Chapter 17 of the short novel of Holder Volcano "Falling leaves"




Snowfall



Although Khurshida agreed that she would marry a nephew of the great chairman comrade Kokyutalov abu Salasarimsak ibn Guslvozhib Tezaktelbakezavuch to save my mom's life, but she couldn't get rid of the unbearable longing for the tractor driver Sultan. On the contrary, her mental anguish, torture and pain grew, like a snowball, hour after hour and day by day. She smiled at her mom, but her soul crying, demanding a meeting with the tractor driver Sultan. Khurshida was crying, not showing her tears to anyone, not even mom not to upset her. Foggy days and nights she cried into the pillow, and she always wanted to be alone, because alone she could mentally to meet her lover, the guy with the tractor the tractor driver Sultan to live with her. Today, waking up, she saw snow falling outside the window and sighed involuntarily thinking that winter has come. It has been snowing all night and he fell carelessly, blurry window with its delicate curtain. She fell quiet, as if fearing to frighten away the white silence, slowly thicker and thicker covering the streets, trees, roofs of houses white fluffy flakes. The snow was falling so thickly that it was difficult to see the road, houses and trees through the curtain of falling snowflakes. Khurshida was looking through the window at the snow, and could not look away from this gentle fabulous winter beauty.
After Breakfast, Khurshida, dressed warmly, went to the side of the field mill, heavy with snow, through a Blizzard that circled diagonally flying snowflakes, not allowing her to open her eyes. She walked, protecting her eyes with the sleeve of her worn drape coat from flying snowflakes. Eyelashes and part of her hair sticking out from under the white shawl, snow-covered, like hair and eyelashes gray-haired old woman. Khurshida since childhood was surprised and captured by a mysterious silence that comes during a snowfall. Birds, streets, fields - all nature subsides, as if afraid to disturb the rustle and whisper of falling snow, like a prayer in the divine winter silence, especially at night. Snow jams make the car turn off the engine. Snow night lights not only light, but also deep ravines of the human soul to the bottom. In falling snow has a calm, melancholy street lamps that are lonely think about something important, with downcast eyes, oblivious to the swarm of white and wild bees albinos that continually bite them, swirling in a Blizzard.
Hardly moving through the thick snow, Khurshida, finally got to the field camp and saw the frozen snow-covered poplar and willow, which joined the branches to the ground from the weight of snow. A locust tree stood, too, in white, as if covered in flowers, and a nest of magpies, too, was covered with a thick layer of snow, like an old forgotten cart in the winter night. The snow was gone; the snowflakes were flying obliquely in white silence, white dash, covering up the traces of Khurshida. The snow fills the grievances, hardships, and separation as follow during a Blizzard, leaving in the soul the longing for past love and the sweet moments that it is impossible to return. Perhaps that is why man sometimes I want to cry silently, staring at the falling snow, remembering happy and joyful days in my life. When especially put out the light in the room, staring through the window at the white twilight, where it falls with the rustle of the snow, when people are sleeping, closing their doors on the latch, when snow-covered roads freeze in the white silence, your soul gets peace and comfort. The snow turns the night into a white fairy-tale dream in reality.
Khurshida was covered with snow like a white pilgrim who came to visit the Shrine. She stood, ignoring the cold, swirling snowflakes in a Blizzard, looking at the dazzling snow which covered winter fields. For Khurshida these places, this field camp, this snow - covered white acacia turned into a hanging symbol of her love and looking at them in her soul revived marvelous memories. Here she met the tractor driver Sultan for the first time when the neighborhood was full of people and their joyful noise, their cheerful ringing laughter, and now the field camp and snow-covered fields have plunged into white silence, where in the noisy sparrows stunning his chirping the whole neighborhood, and heard a ringing and laughter laborers, now silence reigns, and there is a quiet sideways snow. Here, Khurshida bent the samovar; poured boiling water scalded his foot. It is here that she saw iron will, self-restraint and patience of the tractor driver Sultan, without my noticing, I fell in love with him. What happy days are gone in the past, in the dead of oblivion? What an irreplaceable loss, how changeable this world is, o Lord my God! - Khurshida cried, shaking her shoulders. At the moment she didn't want to go home. On the contrary, I wanted to sit at a table covered with snow, under a white acacia and, freezing, turn into ice as a mammoth in permafrost. Let it be covered with snow, falling for weeks day and night, and it will never respond to the call of people who will look for it all night in a snowstorm, stumbling on a knee in the snow with lanterns in their hands, not hearing even their own cry in a Blizzard. It will take eternity, silence. But her pity for her mother stopped her. If it wasn't for her, Khurshida long time would not exist in this world, even the laws of religion would not be able to stop her from suicide. Because of pity to his mother she agreed without love to marry the nephew of the Chairman. Mom must be worried about her by now. Would Khurshida's sister or brother, she would not hesitate, would be hanged right on this acacia. But she's the only one with her parents.
Khurshida sat a long time over the snow-covered table, under a tree, wrapped in a white fluffy blanket of snow. She came here to say goodbye to the white acacia, to the field camp and to the native snow-covered fields, where she fell in love and spent the lightest, unforgettable days in her life, which went into oblivion. The neighborhood is also grieving, like saying goodbye to her and cried the Blizzard.
- Goodbye - said Khurshida in a whisper, and in her chest she was furious tears, and then they leaked out the cracks of her eyes.
She stood up and, stumbling in the snow, back home. Snow in the evening had increased and was falling all night long. Khurshida till the morning could not sleep, constantly thinking of the tractor driver Sultan. Despite the fact that she turned out the light in the room was bright from the slanting snow, which, without stopping, went outside the window.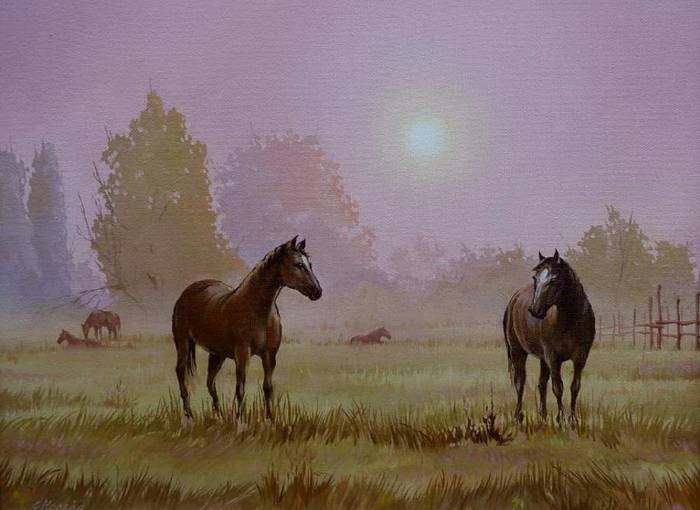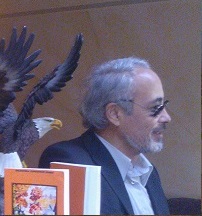 Holder Volcano

Member of the Uzbek Union of Writers

Chapter 16 of the short novel of Holder Volcano



Blunt blows with a wrench


The house Raheela come funny thick rich matchmakers with gold crowns in his mouth, barely passing through the narrow, slanted, unpainted gate of planed boards.
- Welcome dear guests, come, and come, welcome-said Raheela, greeting them and inviting them to the house. One of the matchmakers, a woman with a thick ass, began to mock.
- Oh, why are you taking us to the coop, a future relative, better sit here, under the open sky she said.
Another woman picked up her words and also began to irony.
- Yes that you, survival, it's not a coop, and probably the stables and our new rich relatives, which held Arabian horses "Karabair", each of which is worth more than millions of dollars - she scoffed.
- No, dear guests, what a hen house, some stables, this is our home where we actually live with the whole family. What kind of racers are you talking about? We don't have a horse; we don't even have a donkey. We live very modestly, and I will not hide it from you, dear guests, If you're uncomfortable, then... - said Raheela.
- Oh, no, no, next of kin, we were kidding. We shall go, of course, in your hut - told another matchmaker.
They went into the house and sat down on the mattress, and, reciting a prayer on a custom, made amen, carrying out palms on a face. They talked, looking on low ceiling, fearing, that he can crash on their heads. Thick matchmaker with a thick ass, with gold crowns in her teeth and a double chin began to speak:
- I love these huts. We had a distant relative who lived on the edge of the Mirzachol desert with their small family. We sit in a hut like this one time, on a clay floor, and the wife of our relative put food in a tin can and called someone by name, looking into the crack of the clay wall. I thought she was calling her cat. Turns out she was calling for a hedgehog dinner, you know? The hedgehog ate and walked a little, running fast small legs and rustling their needles. He ran around us, and he walked away. After dinner, we laid a pastel on the flat roof of a clay hut. Lie on a cotton corpacha, looking at the starry desert sky and bright shining moon. In the distance, behind sand dunes where sexual trees grow, hungry jackals have poured out. Under the mattress was feeling hot and stifling. Incessantly bitten by either fleas, or lice, I don't know. We've combed all our bodies. Outside is not allowed to sleep humming a black swarm of bloodthirsty mosquitoes. There were so many of them that we did not have time to drive them away, only slapping ourselves like crazy. Horror! The worst happened after that. As it happened, I don't know, but my mattress got a big nasty bat with a nasty leather wings without feathers. I wildly screamed in horror, crying in fear, I almost fell flat clay roof hut our distant relative from the desert "Mirzachul" she said, laughing, shaking her belly and double chin. Other matchmakers laughed too, flashing gold crowns in their teeth. Then they, making a serious face, switched to a business conversation, asking hands Khurshida for the nephew of the Chairman Comrade Kokyutalov abu Salasarimsak ibn Guslvozhib Tezaktelbakezavuch. At the same time, they praised the guy, saying that he does not drink, does not smoke, does not gamble, and so on.
- Here is a picture of our nephew Padhella said that fat matchmaker, passing the photo Raheela.
Raheela took a picture and promised to think about this proposal and breaking bread, spread the pieces on tablecloth, which was laid out a lot of sweets and fruit. Conversation between them continued for tea drinking.
After she left the matchmakers, Raheela looked long at the picture of the future son-in-law. The guy was kind of cute, and she thought he was intelligent, cultured and decent. Raheela rushed to show the picture Khurshida. But even out of the corner of her eye, she didn't want to look at the photo of the guy.
The little girl, look, the guy, in my opinion, nothing. That is normal, nice. You hear, Khurshida, a unique idea has come to my mind, and this time I hope we're not late. You, my daughter, marry this guy, and so we avenge the Sultan for what he deserted you and left, even not saying good-bye. Let the tractor driver Sultan, the con man will burn in flames of jealousy! We'll show him how to throw a girl who loved him and believed with all my heart! You don't cry anymore, baby. This scoundrel is not worthy of your tears! You're crying day and night, and he's out somewhere in Tashkent with another girl who goes to school with him, in the same course and in the same group. Who knows, maybe he even got married, and soon they will have a child. That scoundrel must be laughing in his wife's arms, and you're slowly going crazy. You must run out of tears. Further pupils your eye will dry up, and you can go blind. Look how thin you are! Don't be naive, daughter. You have to fight and punish the villain of the tractor driver Sultan with their success, even if it is not for love! Do you ever look at a picture of your fiancé's future? He's handsome. Here you will live with it for two months, and you will forget that villain forever.
- Yeah? You think so, mother? But I'm afraid I can't get used to the other guy, and I don't think I can forget that bastard, the goddamn Sultan tractor driver. I love him, okay? Mother, forgive me. I tortured you with my tears. But if you insist, I'll do anything to make you happy. I don't care now. Apparently, fate I have such a, and I must live with it.
- That is another matter. You're clever. You're right, each person has their own separate destiny written on his forehead by God, and no one can erase or change that of the invisible destiny. I thought the tractor driver Sultan was your happiness. But God knows, I was wrong - said Raheela.
After this conversation, Khurshida had changed dramatically and she started to smile, eat more, even to laugh. Once she again saw the tractor driver Sultan. He and his beloved wife Hurhur Rayhan lived on the outskirts of the field, in the old dented rusty body of an abandoned bulldozer "Altai" yellow, overgrown with thick and tall weeds. On the roof of the rusty body of the bulldozer sat the tractor, the tractor driver Sultan, twisting the screws from the parabolic antenna, which he installed on the roof of an abandoned rusty body. At the bottom of his pregnant wife Hurhur Rayhan hung washed linen on a stretched rope with wooden clothespins. White sheets on the clothesline swelled like the taut white sails of the old schooner on the free spring winds. Inside the abandoned body of a bulldozer "Altai" sat a fat mother-in-law of the tractor driver Sultan, and eating, and moving jaws. Then there was a pale skinny boy of seven or eight, with a puppy in his hands.
- Dad, look, I brought the puppy! Stray dog whelped cemetery! - He shouted, looking at the tractor driver Sultan, who was involved in the installation of a parabolic antenna.
- Well done, son! Is that puppy a cable or a bitch?! - He asked, for a moment interrupting the work.
- Bitch! - Sultan's son said.
-Nothing they say abroad, many people to keep the house mostly bitches! You lock her in the coop so it doesn't run! - said Sultan.
- All right, dad! - Sultan's son said.
- Dad, what do we call it?! - Sultan's son asked, having locked a puppy in a hen house. Sultan on moment wondered, scratching the back of the head with a wrench, then said:
- Come on, son, we'll call her Itbachcha (son of a bitch). Does that sound?! Itbachcha! This nickname corresponds to this bitch in all respects! - smiling Sultan.
- Okay, dad, I'll call it that.
Sultan continued to work. Khurshida broke down and cried:
Hey Sultan, are you so happy and stupid?! Is this life?! Even homeless, drunks and run-off addicts, and they will not agree to live in the dented rusty body of an abandoned bulldozer "Altai" yellow light! And you're so happy! You can also mount a stupid parabolic antenna on the roof of an abandoned bulldozer! You know, I didn't come here just to notify you that I'm marrying a handsome guy named Pathirage! He was the nephew of the great Chairman Comrade Kokyutalov abu Salasarimsak ibn Guslvozhib Tezaktelbakezavuch! Burn now in the infernal fire of jealousy and turn into a handful of ashes, freak! Hahahahahahaha! - she laughed triumphantly.
- Look, Hurhur Rayhan, there's some old laughs! Hey, who are you?! What do you want, witch! Be gone, evil spirits! Just think, she's getting married for Padilla! Duck out for anyone us what a fool you're the village?! Get the fuck out of here before it's too late! I'm not going to break your skull with this wrench, you fucking bitch! - Sultan. Khurshida threatened, standing on the roof of the crumpled rusted body of the abandoned bulldozer "Altai"yellow. There's an angry pregnant wife of a tractor driver Sultan Hurhur Rayhan came to Khurshida. A desperate fight ensued between Hurhur Reyhan and Khurshida. Khurshida, like last time, grabbed him by the hair Hurhur Rayhan to rip off her wig and laugh, looking at her bald head, resembling a peeled egg. But there it was. As she pulled her hair, pull her wig could not.
- Well, yank, yank, stupid! You can't do anything anyway! I glued the wig to the head like glue that nobody will be able to tear it away!
Khurshida would easily overcome Hurhur Reyhan, if she had not had the military assistance of the tractor driver Sultan, who jumped off the roof of the crushed rusted body of an abandoned bulldozer "Altai" yellow. He ran with weapon in hand, that is with a wrench and struck those blows to the head of Khurshida. The blows were so strong that she woke up from a nap.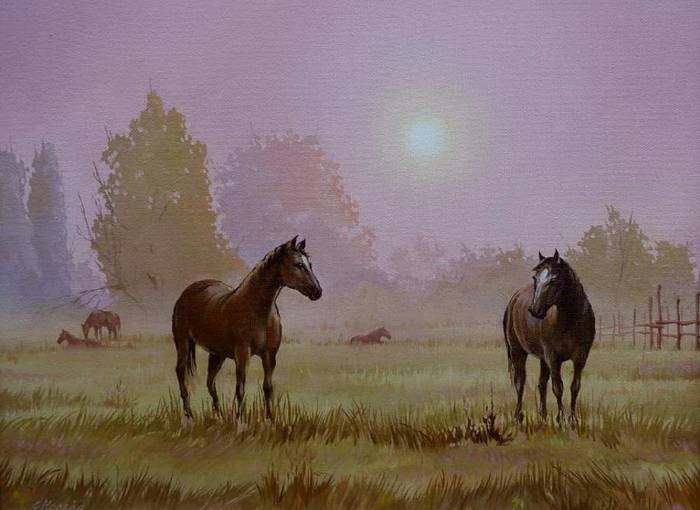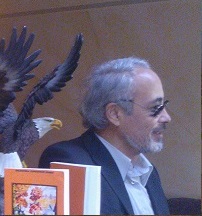 Holder Volcano

Member of the Uzbek Union of Writers

Chapter 15 of the short novel of Holder Volcano


The bride of the tractor driver Sultan Hurhur Rayhan




Khurshida went to the collective farm tractor Park to find out where the tractor driver Sultan disappeared these days. During a recent conversation, he said that he lives in the tractor Park. Going to tractor Park, Khurshida asked the Manager and heard the terrible news that she feared most. It turns out, the tractor driver Sultan went, whether in Tashkent, whether in his native village "Tuyamuyun". Hearing this, Khurshida felt very dizzy and not to fall, she leaned against the wall. The Manager went on to explain:
-The guy was nice, funny smart, the whole team respected him. I asked the reason for his departure, but he didn't want to tell us about it. He packed his bags, said goodbye to us, and he left. Only... excuse me, girl, is your name Khurshida? - asked the Manager.
- Yeah, what? - Khurshida shuddered, thinking of where the Manager knows her name.
- The fact that the tractor driver Sultan before leaving, said to me confidentially, whispering in my ear that he trusts me like I trust myself. Then he asked me to give you this envelope. Don't be afraid, I won't tell anyone. Of course, I don't want to interfere in your internal Affairs, but personally I feel sorry for the tractor driver Sultan. Such a cheerful guy, the comedian, and suddenly, the smile on his face faded, as if the burned-out bulb, eh... Here you go, in one piece and believe me, I have not opened this envelope. Maybe he left you his coordinates - the Manager said, passing the envelope. Smiling through tears, Khurshida thanked the Manager and took the envelope with shaking hands. After that, she left the control room. Khurshida was walking on the sidewalk and cried, clutching the envelope to her chest. Not to get caught in the open, she went over the edge of the field, where the trail meandered like a snake to the field camp. When Khurshida came to the camp, there was not a soul. She sat down at a homemade field table, located under acacia, which blooms in the spring. At that moment, the tractor driver Sultan's letter seemed to her to be a time bomb. On the other hand, it encouraged her. She carefully opened the envelope and took out the letter. Khurshida recognized the familiar handwriting of the tractor driver Sultan and began to read.
Hello, Khurshida!
First of all, I would like to ask you and your mother, Aunt Rachel, for the fact that, without consulting with you, I made an independent decision, and I'm leaving. I've been thinking, but couldn't find the way out of the situation but to leave, so as not to disturb you and your family. Khurshida, You clever girl, think for yourself, well, let's say, we'll go someplace else. Do you think this will solve all the problems? No, of course, If not your father, people Chairman Comrade Kokyutalov abu Salasarimsak ibn Guslvozhib Tezaktelbakezavuch will find us, at least from the ground. This is by far. That is, they have long hands. I'm not afraid for myself, I'm afraid only for you and your mother. This is destiny and we with you not in forces to change. Here, my presence will only harm you and your family. I don't want to because I cursed your father and you burn in hell in the afterlife. The curse of the father is the end for man! Living with your father's curse doesn't make sense. And I want you to be alive and your mother, Aunt Rachel. Yes, I love you and you know it. But it doesn't give me the right to sacrifice You and your mom. On the contrary, I should sacrifice myself for you, for aunt Rachel's life and for our love. I understand you and your position; I understand that you also are in unbearable pain, mental pain, unbearable spiritual torture that I feel. But this suffering is nothing in comparison to the torment and torture of hell. May the worms of separation eat me alive; I'm ready for it in order to protect you from destruction. Who knows, maybe God himself decided to test our patience. And we have no other way but to make peace with the destiny that is ordained by the Supreme God himself. I'm most afraid to go crazy with longing and boredom without you. My soul cries like a violin, like the wind in the desert, like the hoopoe in the fields.
I will never forget you, Khurshida, and I'll love you forever! You will remain in my memory as a white acacia, which will bloom selflessly in the spring near the field camp! Khurshida, I ask you at last - if you really love me, then accept the fate and marry the guy for whom your father wants to give you. Because uncle Abduljabbar promised, gave word of man, this chairman comrade Kokyutalov abu Salasarimsak ibn Guslvozhib Tezaktelbakezavuch. This is very important in terms of honor and dignity of men. You have to put up with fate, at least so as not to jeopardize the life of your mother, who gave birth and raised you. If your love for me is sincere, you will find strength in yourself and try to overcome the bitterness of separation. You'll see, it will be years - and gradually let go of you, that spiritual hunger, that terrible need, the name of which is separation. And our love will remain in our hearts as the first snow, like a unspoiled island Paradise where no foot of man, where on the sandy shore there will be no trace, but our with you. Shore waves will kiss in the moonlight of those loving acceptance that we wrote when something you stick in the sand. This will be our quiet mooring under the moon, where we will sail mentally, and sitting under the white acacia, we will silently look at the moon shining over the sea of memories, listening to the rustle of the tide of waves. Our love will remain in our memory banks the blooming white acacia. This is my first and last letter. Want - tear it to pieces and throw it to the wind like the petals of the flowers of the acacia, want - burn like a tourniquet autumn leaves of the poplars and maples that grow at field mill, where we first met, want to save on memory, and don't look for me. All the forces try to forget me.
Be happy and live long.

With best wishes,
The tractor driver Sultan Ultanovich.

After reading the letter, Khurshida roared, shaking her whole body, owed:
- God, what is this? He gave me happiness and he took it from me! How am I going to live now, Lord?! How do I get out of this pit now?! He left, leaving me...No, and don't hope, unfaithful Alphonse, I'll never forgive you! If you'd waited a little while, me and my mom, the three of us would have gone! - She cried. Then suddenly she abruptly stopped crying, staring at the hazy blank look. Her eyes were empty, like a pair of birds flying south. For her, life has lost its color, taste and any sense. Time stopped, too. Now she didn't care. As if the soul left her body, flew somewhere in the unknown distance and flies on and on, forever, like a night bird disturbed. Khurshida stood up from her place and went back roads through the fog, with the crumpled letter in hand and did not notice how came home. Seeing her pale face and empty eyes meaningless, Raheela was scared.
- What's wrong, daughter? Don't tell me that the tractor driver Sultan died - she said. Khurshida hugged mom and said.
- No, mom, it happened more terrible than his death... He left- Khurshida started to cry.
- What are you talking about? Who told you that he left? No, it can't be. This evil people staged a draw, telling you false news-told Raheela. Khurshida showed her the crumpled letter to the tractor driver Sultan.
- This letter says it all - tears, she again, sitting down exhausted on a chair.
Smoothing the crumpled letter, Raheela started to read wider and wider to gawk at each read line. After reading the letter, she also instinctively squeezed the letter into a ball.
- As I was happy but, oh, how I was hoping, thinking that you will be happy. But the opposite happened. We were too late. It's all my fault. The idea of leaving came to my mind too late. I should have thought about it earlier, earlier. Oh, my God, we're so unlucky! - said Raheela in a whisper, with tears in her eyes.
- Daughter, you really do not cry, better go to your room and lie down, rest a bit, gather my thoughts. Don't cry. Many do not cry, do not beat yourself up, you still can't reverse the water in the river that flowed. Lost time cannot be regained... With these words Raheela helped Khurshida to undress. Khurshida walked, not looking at her feet, like a sleepwalker who sleeps on the go. She went into his room and threw himself on the bed and covering her head with a pillow, began to sob bitterly. Raheela stroking her feathered hair, too, was crying. Khurshida was lying there till the evening, and didn't want her to eat her dinner, despite the request and entreaty of her mother. She locked herself in the room, asking her mother not to disturb her. At night, Khurshida again dreamed of the tractor driver Sultan. He was wearing a black Tux. Neatly combed, shaved, fresh as a Daisy, with a cigar in his mouth, he sat behind a field desk under a white acacia at field mill. Beside him sat the bride in a white wedding dress, skinny, with overly long neck, with big like a tarsier, with eyes, with a swollen forehead, reminiscent of a planetarium, with long and bony hands and big, thin ears, like the ears of a bat. She had a big mouth, but her lips were thin. At other tables sat the drunken guests, many of whom danced the Chairman of the collective farm comrade Kokyutalov abu Salasarimsak ibn Guslvozhib Tezaktelbakezavuch on the dance floor, raising his eyebrows, moving necks and wiggling their butts in time to the music. Over the bride and groom moved bunches of white acacia flowers, gently swaying in the spring wind. The waiters poured the guests Moldovan wine "Isabella" in crystal glasses. Flying champagne corks, all the noise, loud female laughter, male laughter, one word - fun. Only, Khurshida stood in the corner quietly crying. After passing through the crowd, she came to the main table, where the bride and groom sat, that is, the tractor driver Sultan with his companion.
- Nu, Hello, Sultan! Getting married right, and I? We all loved each other. Making plans for the future and you seem to have sworn to marry me at all costs. And you turned out to be a real con man. Take and defied me! It turns out that every day you change girls like socks! Are you not ashamed?! - she said.
The tractor driver Sultan looked at Khurshida with surprise and, lighting a Cuban cigar, said:
I don't understand, Madam, who are You, something I don't remember. I don't have another girlfriend, and I didn't. I just love her, advanced tractor driver, the beauty of Hurhur Rayhan! Whoever you are, I must warn you not of the responsibility for libel, but that my fiancée has been engaged in melee fighting for years in the basement of the Department of Internal Affairs, and that she has a black belt on karate. She is a master of sports in Ju-jitsu. To be honest, I'm scared of her. I would advise you to drink less alcohol. Such brawls will not lead to anything good! - He said.
- What you a vile man, Sultan! Here's to you! - said Khurshida and, grabbing the edge of the tablecloth, sharply pulled on itself. As a result, all that was on the table fell to the ground. The crystal glasses shattered. Porcelain vase also broke into exactly two parts. A beautiful bouquet of purple roses with long stems scattered in different directions. An angry bride-to-be Sultan Mrs. Hurhur Rayhan one leap was on the table.
- Honey, Hurhur Rayhan! Come to your senses, dear! Don't give in to provocation! This village girl is not worthy of your anger! It is not necessary to get dirty with the blood of this illiterate redneck. Oh, my lovely rose! Stop, for the sake of our love! - shouted the tractor driver Sultan.
But Hurhur Rayhan did not obey the tractor driver Sultan and with the battle cry attacked Khurshida, started a fight between two angry women.
- Well, now you're dead, Hurhur Rayhan! I'll knock you out! - Khurshida said, catching hold of her hair, tugging her curly hair, but when hair Hurhur Rayhan pulled away, and bared her bald head, which looked like a hen's egg, Khurshida scared. In a cold sweat of fear, she woke up.